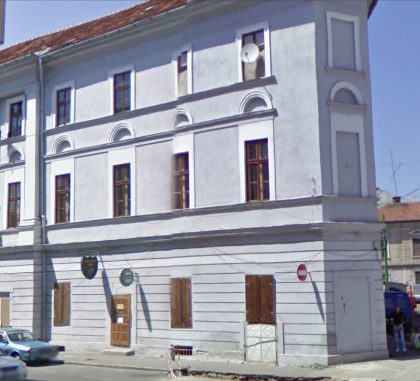 Jews settled in Arad in the early eighteenth century, reaching the number of 10,000 before the Second World War. In the nineteenth century, this city was one of the hearts of Reform Judaism, under the direction of Rabbi Aaron Chorin. The community survived the Holocaust and most of the family emigrated to Israel after the war. There are less than 300 Jews in Arad today. Community life is organized around the synagogue,  the cemetery, but also the kosher canteen, the retirement home and the airy center. Before your trip, you can contact the  Jewish community of the city.
The neologic synagogue of Arad
The first Jew to officially settle in Arad was a merchant named Isac Elias, who became the founding member of the Jewish community in 1742. Other historical documents mention a woman named Nahuma; who would have donated a plot of land for a synagogue. The first place of worship of the city, a wooden building, was born with the community in 1742.
In 1828, the synagogue has 812 faithful and therefore becomes too narrow for this thriving community. The  synagogue we know today, of Greco-Tuscan style and imagined by the architect Heim Domokos, is built from 1827 and inaugurated in 1834. The neologic synagogue of the city entered the patrimony of Arad in 2004. Three stories high, it was built in a triangle, an unusual form at the time. Access to the building is via a small courtyard in the center of the building.