Regional Museum of Maribor
2 Grajska ulica, Maribor 2000, Slovenia
Holocaust Memorial and Synagogue of Maribor
4 Židovska ulica, Maribor 2000, Slovenia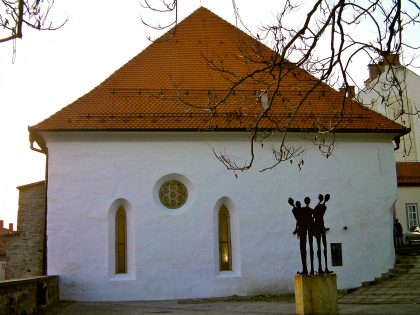 The Jewish settlement in the medieval fortress of Maribor, near the Austrian border, dates back at least to the thirteenth century. This Jewish community must have been rather prosperous, for in the fifteen century several Catholic families asked to convert to Judaism, a rare event certainly in Europe at the time.
After their expulsion by Austrian emperor Maximilian I, Maribor's Jews headed for Italy and Hungary. The Morpurgos, one of the most famous families in Trieste, Split, and even Gorizia, was among them: their names derives directly from Maribor, their city of origin.
The Regional Museum of Maribor features the tomb of the first rabbi known to have officiated in the city, a certain Abraham, who died in 1379.
The former Jewish district, located in the southwest section of the old city near the outer walls, has its own Street of the Jews. The  synagogue here was restored and also hosts a memorial to the victims of the Shoah. The building, whose dimensions measure 65 ft. x 39 ft., was converted into a church in the sixteenth century, following the expulsion. The only remnant today of its use as a synagogue are a wide recess for the Ark of Covenant as well as a number of fragments bearing Hebrew inscriptions.
You will also find the "Jewish Tower" here, now a photo shop. Not far from the synagogue, it most likely owes its name to its role in defending the Jewish quarter during attacks against the city.