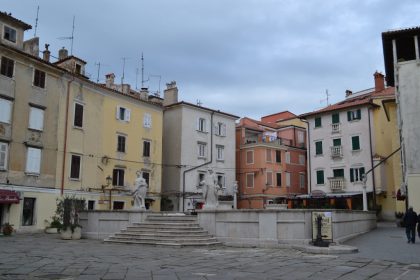 Piran is a former possession of the City of Doges, which explains its Venetian atmosphere. It contains some beautiful architecture, including a replica of the Campanile in the Piazza San Marco.
This charming little coastal town has preserved its medieval ghetto square, Zidovski Trg, which can be entered through an arcade. The square is surrounded by several multistory houses that undeniably resemble those of the Venetian ghetto.
In the 1980s, the town of Piran was largely renovated. A  Jewish Square Quarter has been named in the Old Town, in remembrance of the former Jewish presence. Some historical sources indicate that Saint Stephen's Church was built on the site of a medieval synagogue.