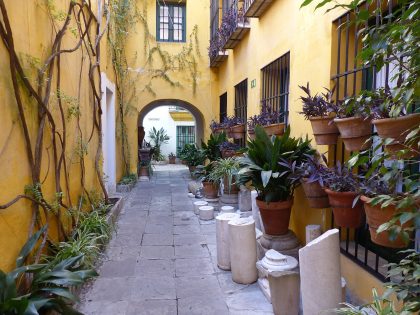 Seville's Santa Cruz quarter, protected by the Alcazar, was formerly the city's famous judería. The maze of streets and their evocative names give a good idea of what it was like in 1492. Be sure to stroll around the Calle de la Judería, Callejón del Agua, Calle des Levis, and the Calle de Santa María, which may have been the main street.
The name  of the Calle de la Susona attests an old legend concerning a converso uprising against the Inquisition led by a woman, La Susona. The whitewashed facades, flowers, and patios make this a charming quarter and give us an idea of daily life in Sepharad. Note, however, that the squares were opened up in the nineteenth century in order to make the quarter more airy.
Inside the  cathedral, the pedestal of the Mausoleum built by Alfonso X for his father, Fernando III, has a Hebrew inscription giving the date of the king's death according to the Hebrew calendar. The cathedral treasury has the silver keys given to King Fernando III by the Jews. They bear two inscriptions in Hebrew announcing that "God will open, the King will enter" and "the King of Kings will open, the King of the whole earth shall enter".
Three seals belonging to Jewish figures in the twelfth century are on exhibit at the  Archaeological Museum, and the  Archives of the Indies has a copy of Abraham Zacuto's perpetual almanac, used by Christopher Colombus and Vasco da Gama.