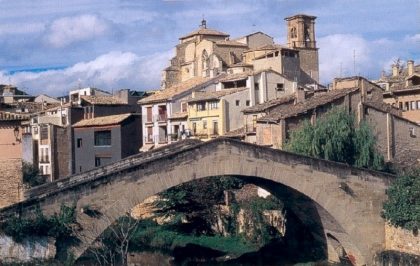 The Jewish presence in Estella dates back to the 11th century, in what was once one of the main communities in Navarre. The town was founded to protect the route to Santiago de Compostela. Benefiting from privileges compared to many other Spanish towns, the Jews settled in the town in large numbers from the 12th century onwards, living in the citadel of Estella and in the surrounding area, such as the  Elgacena district. They represented 150 citizens, participating in the social and institutional life of the city.
Their situation deteriorated at the end of the 13th century and especially at the beginning of the 14th century, following the death of the king in 1328. Many Jews were murdered in riots and their houses sacked. Queen Juana II took sanctions against those responsible for the riots.
The community was rebuilt in the second half of the century, with 85 Jewish families present in Estella in 1366, mainly from France and England. Charles II even appointed Judah ben Samuel Halevi as High Commissioner to the Crown. Leon Horabuena, the chief rabbi of Estella, served as physician to King Charles III. The kingdom welcomed other Jewish refugees from the surrounding persecutions. However, following the Inquisition of 1492, they were no longer spared.
The Jewish quarter, located today in the oldest part of the city, can still be seen in the remains, such as the protective walls of the quarter. The church of  Santa Maria Jus del Castillo was built on the site of the old synagogue. Archaeological excavations were undertaken in Estella at the beginning of the 21st century, particularly with the aim of (re)discovering its Jewish cultural heritage. In 2015, the town celebrated Hanukkah for the first time, in a sign of reconnection with this past, although few Jews live there today.
Sources : Encyclopaedia Judaica, Redjuderias.org, Times of Israel