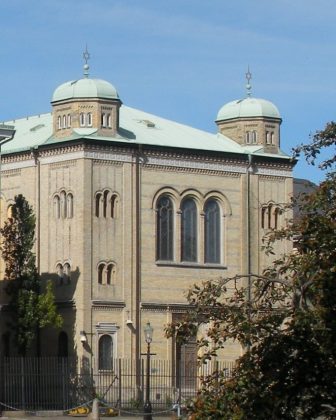 Jews have lived in Göteborg since 1782. The Conservative (masorti) rite synagogue is located at the same address as the community center. There is also an Orthodox minyan in Göteborg.
Before settling in the city of Gothenburg in 1792, Jews were welcomed along with other minorities to the nearby island of Marstrand. Although the first synagogue was built in 1808, the presence of a rabbi did not materialize until 1837.
The current synagogue was built in 1855. It blends Moorish, Romanesque and Byzantine styles inside, while outside you can see Scandinavian and Celtic designs.
The city's Jewish population increased in the early part of the 20th century, with the arrival of Russian and Polish Jews fleeing pogroms and wars. Likewise during World War II with the arrival of Jews from Denmark, saved thanks to the courageous operation of the entire population and of the Danish authorities. Then also other Jews from Poland and Russia.
In 1968, Swedish Jews formed a community of nearly 1,500 people. Following Perestroika and the end of the Cold War, Jews from different countries forming the Soviet Union migrated to Sweden.
As in most other Swedish cities, Goteborg faces an anti-Semitism propagated by neo-Nazi and Islamist circles. Thus, in 2017, the Goteborg synagogue was attacked with a Molotov cocktail. That same year, 600 neo-Nazis demonstrated on Yom Kippur.