Community Center of Stockholm
Nybrogatan 19, 114139 Stockholm
Jewish Museum of Stockholm
Hälsingegatan 2, 113 23 Stockholm, Suède
Old Synagogue of Stockholm
Själagårdsgatan 19, Stockholm
Grand synagogue of Stockholm
Wahrendorffsgatan 3,Stockholm,111 47, Suède
Synagogue Adat Yisrael of Stockholm
S:t Paulsgatan 13, 118 46 Stockholm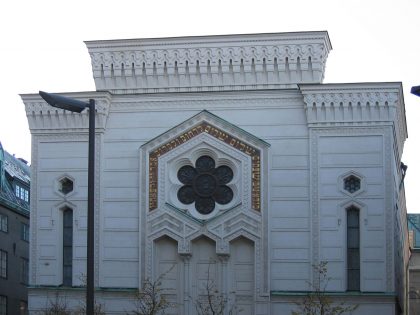 Established in 1775, the Jewish community of Stockholm numbers 5200 members. Its  community center is situated near Raoul Wallenberg Square. The square was named after the Swedish diplomat who, after saving a number of Hungarian Jews, was arrested and then most likely assassinated by the Soviets. A sculpture by Willy Gordon representing a Jew fleeing with a Sepher Torah stands in front of the building.
The Jewish Museum was founded in 1987 by a patron of the arts named Aron Neuman. It consists of three rooms and houses, with, in one area, a collection of cultural objects (including an important collection of Judaica), and in another area, temporary exhibitions dedicated mostly to works of Scandinavian Jewish artists. The museum is currently closed. It will soon reopen in the Gamla stan (old city) neighborhood in the  oldest synagogue of Stockholm.
There are three synagogues in Stockholm. Built in an oriental style and completed in 1870, the  Grand Synagogue in the city center follows the Masorti liturgy and can hold 1000 worshippers. The most interesting feature of the community center's library of this synagogue is its excellent collection of the community's publication Judisk Kronika and the volumes on the history of Sweden's Jewish community. The Orthodox synagogue Adat Yeshurun contains furnishings that came from a synagogue in Hamburg vandalized during Kristallnacht. The other Orthodox synagogue, the Polish-rite  Adat Yisrael, is situated in the Södermalm quarter in a seventeenth century building.
In the cultural arena, the Swedish community has its own FR radio station, Radio Shalom.