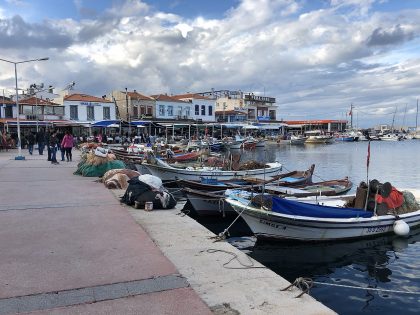 Urla is located 35 kilometres from Izmir. It is assumed that the town's Jewish community originated on the Aegean islands of Mora and Izmir.
In 1840, Urla's Jewish community numbered 40 families, rising to 90 by 1900. At the end of the Turkish War of Independence, the Greeks, forced to leave Urla, set fire to the town, thus displacing the majority of the Jews.
The community emigrated to Izmir, Rhodes and the United States. Today, on the site of the old Jewish quarter, on the corner of The Victory Victoire and the Post Office streete, stands a building that was probably once a synagogue. The tombstone of Isak Eskenazi, a leading figure in the town, is preserved by the local council.
The Eskenazi house has been restored and now houses the town hall. The Arditi Pavilion is located in the Turkish quarter of Urla. Built in the mid-19th century, the pavilion was used as a home until the 1930s. Now owned by the Town Hall, it was also used as a courthouse. The pavilion can be seen in rue Urla Park, opposite the Hocaali mosque.