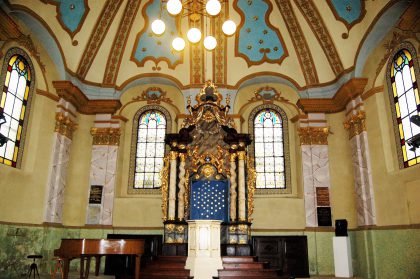 Rakovnik is located between Prague and Plzen; 32 miles west of Prague, and 30 milesnortheast of Plzen. Jews are on record as living in Rakovnik since 1441. Between 1618 and 1621 three Jewish families from the nearby town of Senomaty came to live at Rakovnik. In 1690 there were 38 Jews living in the town and 1724 seven Jewish families had made Rakovnik their home.
The Jewish community was organized sometime during the 17th century but was officially recognized in 1796. After 1830 there were 14 families who made up the Jewish community; by the middle of the century, particularly after the emancipation of Austrian Jewry in 1848 and the subsequent removal of residence restrictions, the number of families living in Rakovnik rose to about 30. At that point there were 10 Jewish houses located around the synagogue, in the northern part of the old town.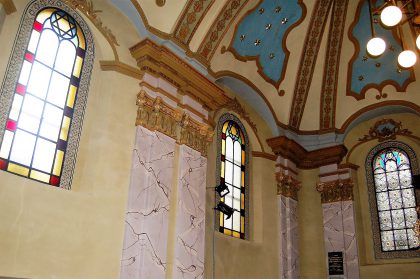 The Baroque-style synagogue was built in 1763, on the site of a prayer house that had existed since 1736. The synagogue was rebuilt and expanded in 1792 and in 1865; later, in 1917, the synagogue underwent further refurbishment. The synagogue was damaged by fire in 1920 and repaired for the last time in 1927. It was ultimately in use until World War II. A community house, which adjoined the synagogue, contained the regional rabbinate offices and the Jewish school. The cemetery which had been consecrated in 1735 on a hill south-east of the town, was enlarged 3 times: in 1745, 1856, and 1891. A funeral hall was added at the beginning of the 20th century, along with a burial ground for urns with ashes. Other communal institutions and resources included the chevra kaddisha and a women's society for charity and welfare work.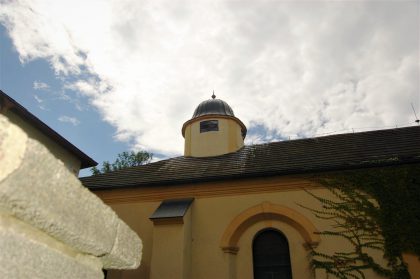 In March, 1939 the region of Bohemia and Moravia, which included Rakovnik, became a protectorate of Nazi Germany, ushering in a period of discrimination and violence against the region's Jews. Between 1938 and 1941 the Jewish community made a unique agreement with the Czech church in which the synagogue building served the Jewish community on Saturdays, and the Christians on Sundays.
Beginning in 1942 the Jews from Rakovnik were deported along with the Jews of Prague to the Terezin (Theresienstadt) Ghetto. From there they were sent to concentration and death camps, where most perished. Before the expulsion to Terezin, 239 documents, 30 books, and 150 ritual objects were transferred from the community to the Central Jewish Museum in Prague.
Jewish life was not revived in Rakovnik. From 1942 until 1950 the synagogue building functioned as a Hussite church. In the 1990s it was converted into a concert hall; the women's gallery and the adjoining community house were turned into an art gallery.
Source : Beit Hatfutsot Museum, Israel