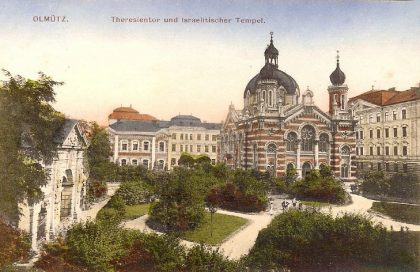 Olomouc was the capital of Moravia from the 14th to the 17th centuries and a major trading town at that time.
The Jewish presence is very old and seems to date from the 11th century. Documents from the Middle Ages have been found which attest to the payment of taxes by the Jews to the local authorities.
The Jews of Olomouc were expelled in 1454 and their property seized. Nevertheless, some Jews were allowed to come to town on weekdays.
It was not until 1848 that the Jewish community was reconstituted, when they were granted equal rights as citizens. A congregation was founded fifteen years later. By the end of the century the town had a synagogue and a Jewish cemetery.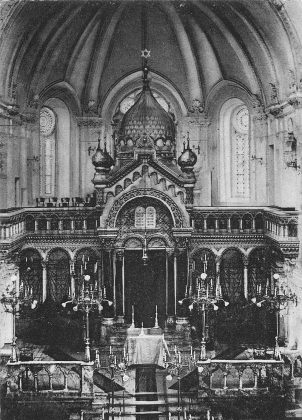 The beautiful oriental-Byzantine synagogue, designed by the architect Jakob Gartner, was opened in 1897. The year the Zionist convention was held in Olomouc, with Theodor Herzl as one of its guests. The Jews participated in the economic development, especially in the malt industry and the cattle trade.
Many refugees from neighbouring regions, especially from Galicia, settled in Olomouc after the First World War. As a result, the Jewish population increased from 2,200 at the beginning of the 20th century to 4,000 at the beginning of the Second World War. During the Holocaust, the majority of the Jews were deported. Only 232 survived. The synagogue was burnt down. A plaque has been placed in Palach Square, near its former location.
In the aftermath of the war, a Jewish community tried to rebuild itself. A Holocaust memorial was installed in the Jewish cemetery in 1949 and six years later a synagogue was opened. A plaque was also placed in 1996 on the primary school in Halkova Street where Jews were gathered during the Shoah before being deported. Today there remains a small Jewish community in Olomouc.
Sources : Encyclopaedia Judaica