Interview with Dr Mirjam Wenzel, Director of the Jewish Museum Frankfurt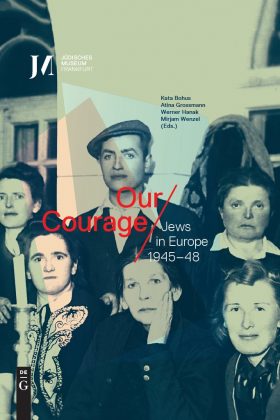 Jguideeurope : What will be the main theme of the Festival and what events will celebrate it?
Dr. Mirjam Wenzel: The European days of Jewish Culture are devoted to the topic communication, this year. Communication is key for every institution particularly for museums. In the renewal process of the Jewish Museum Frankfurt we developed eight personas that were meant to symbolize the diversity of our audience and initiated a series of workshops to understand their interests and questions in relation to our museum. Our museum is situated at two historic sites (Museum Judengasse / Rothschild-Palais) and presents two mixed media permanent exhibitions that are dedicated to 850 years of Jewish history in Frankfurt and engage with the visitors through participatory elements and personalized storytelling.
For this year's European days of Jewish Culture we will focus on our temporary exhibition "Our Courage: Jews in Europe 1945-48" that examines Jewish experiences of expulsion, migration, commemoration and rebuilding in the immediate post-war years from a pan-European perspective.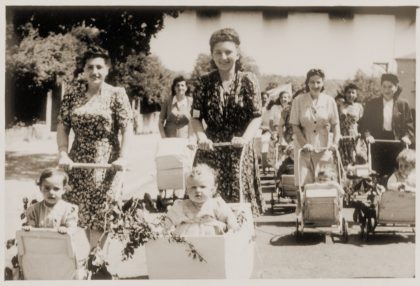 The exhibition begins with a glance back in time and emphasizes that before the Shoah, Europe was the most important continent for Jews. On the basis of seven cities, individual life stories, and an array of impressive objects, it shows how quickly and actively the survivors of war-torn Europe, a continent now shaped by new borders, took their fate into their own hands and began looking for surviving family members and creating new networks.
These survivors either attempted to rebuild destroyed Jewish communities or prepared for a life in exile in non-European countries. For the European days of Jewish Culture, we will offer several in-depth-insights into their individual biographies at different European cities.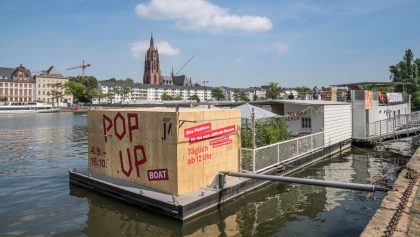 Can you share a personal anecdote about a previous Festival?
In 2016, the Jewish Museum Frankfurt opened its Pop-Up Boat on the Main river on the European day of Jewish culture. The Pop-Up Boat was a space for encounters that included a Pop-Up exhibition, participatory displays, a Tel Aviv beach bar, lunch talks and workshops introducing the issues and themes addressed by the new Jewish Museum, such as: What is Jewish art? What are family ties and how long do they hold together?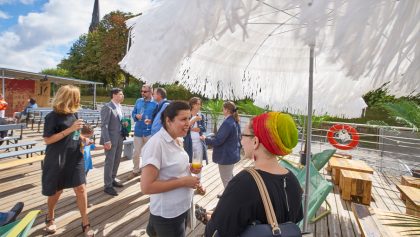 In the evening it was a platform to experience contemporary Jewish culture with concerts, readings, panel discussions, performances and film screenings – cheeky and serious, conscious of tradition and provocative, unsentimental and confrontational. Right before the opening of the Pop-Up Boat it was raining heavily. There seemed to be almost no place on the boat where one could stand without getting wet. But all of a sudden, right before the Lord major appeared for the opening ceremony, the sun came out and we were rewarded with a beautiful rainbow right above the boat – an almost biblical experience.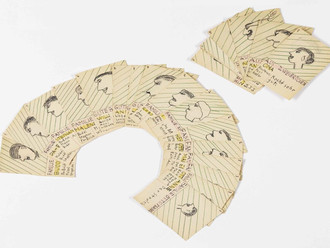 Can you tell us about the Museum's exhibition "We are now"? 
"We are now" is the title of the new permanent exhibition in Rothschild-Palais dedicated to the Jewish experience of modern life in Frankfurt from emancipation until today. Displayed on three floors of the Rothschild-Palais, it offers different approaches to Jewish history and culture in one of the main centers of Modern Jewish life Europe: Starting in the presence, the permanent exhibition tour outlines major historical events and conflicts, reflects on Modern changes of traditions and rituals, and tells individual stories in a mixed media setting, from a Jewish perspective. A special focus lies on renowned fine artists, like for example Moritz Daniel Oppenheim, and scholars like Samson Raphael Hirsch, Martin Buber, Max Horkheimer and Theodor W. Adorno.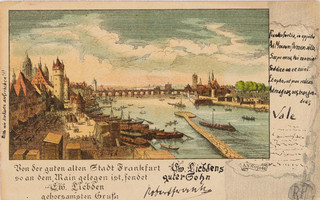 Jews shaped the cultural, economic, scientific and social development of Frankfurt decisively, even after the Holocaust. Based on their own experience of migration they gave distinction to municipal cosmopolitanism as well as to the European meaning of Frankfurt as a city of publishing, scholarship, trade and finances.
In order to offer a personal approach to this extraordinary history, a special focus of the exhibition is dedicated to Jewish families, like Anne Frank's family whose history is presented exclusively with original objects and documents of family inheritance or to the world-famous Rothschild family whose success story is being presented in the historical setting of the representative rooms they once lived in.
Which particular place related to Frankfurt's Jewish heritage do you feel should be better known?
The Börneplatz synagogue. Inaugurated in 1885, the sandstone building offered a room for 800 prayers observing the conservative liturgy. It was situated right at the end of the former Judengasse beside a vived marketplace. During the Weimar Republique the synagogue became the epicenter of what is called the Jewish Renaissance and attracted a lot of intellectual rather secular Jews like for example Martin Buber, Franz Rosenzweig, Siegfried Kracauer, Samuel Agnon. Destroyed in the November pogrom of 1938, the synagogue left hardly any traces in the memory of the city, today.
That's why we have initiated a Pop Up Event at the historic site between Rosh Hashana and Yom Kippur to raise public awareness for the heritage of this particular synagogue. The event includes performances, discussions, guided tours, an exhibition of the remnants of the Torah arch and a temporary architecture that will highlight the former structure of the Börneplatz synagogue