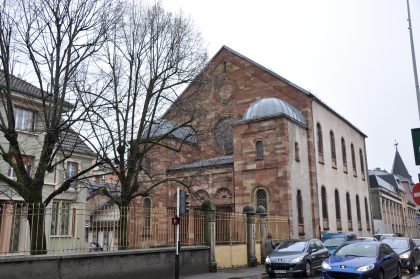 If a Jewish presence is mentioned in documents from the Middle Ages, the establishment of a community rather took place at the end of the 18th century. Their presence in neighboring towns such as Foussemagne is older. The emancipation of the Jews of France with the spirit and authority of the French Revolution facilitates their installation.
Thus, from 1791, they mainly lived in the old town. The first birth was celebrated the following year, and the first Jewish marriage a year later. The community numbered 475 Jews in 1823.
A synagogue was built in 1830 and was to be demolished shortly after because it was enclosed in military land. The current synagogue was inaugurated on March 26, 1857 by Salomon Wolf Klein, the chief rabbi of Haut-Rhin.
The  synagogue was built by the architect Diogène Poisat Aîné. The facade of the building is in Romano-Byzantine style. It has two pavilions with symmetrical domes and three portals. Inside, the arch is surmounted by a rosette stained glass window. Floral and arabesque motifs decorate it. The synagogue is listed as a regional heritage for an additional reason, the presence of a mid-19th century Ungerer clock.
The community grew after 1870 and the arrival of Jews from Alsace. Then, with the arrival of Polish Jews. Of the 700 Jews present before World War II, 245 were murdered. After the war, the community was rebuilt, with the arrival of European Jews and then North Africa.
Belfort also has a Jewish cemetery which dates from 1811. Visits are organized by the Department of the Territory of Belfort.