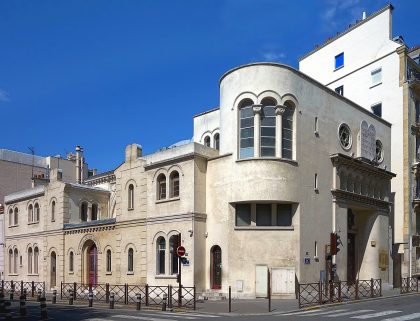 Jews living in Neuilly since the mid-19th century organized a small oratory on rue Louis-Philippe in 1869. 140 Jews were identified in the community in 1872.
Following the purchase of land, in particular thanks to the philanthropist Godchaux Oulry, rue Jacques-Dulud in 1875, the architect Emile Ulmann, Grand Prix of Rome, takes the works in hand.
The  synagogue was inaugurated in 1878. A neo-oriental style building. With two pavilions on which are carved the tables of the Law.
On the central arch is inscribed the passage of the Psalms "Open the doors of salvation to me, I want to cross them, pay homage to the Lord". Inside, the Byzantine references are quite present. The bimah precedes the holy ark.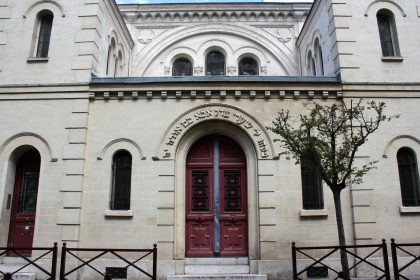 The first rabbi is Simon Debré, patriarch of the famous family involved in French public life. Among the other rabbis, the one who succeeded him, Robert Meyers deported and killed in Auschwitz, Jérôme Cahen, very involved in youth projects, and Michaël Azoulay, who enabled great progress to be made in the place of women in active religious life.
Structural and decorative modifications were made from 1936 to 1937 in the synagogue following its expansion encouraged by the growth of the Jewish community of Neuilly, which numbered 6,000 faithful. The architects Germain Debré and Julien Hirsch are leading this project. An entry is added rue Ancelle. The artistic influences are more modern. Thus, the round shapes are added to the square ones of the old construction. Maguen David and tables of the Law adorn the top of the facade.
Following the creation in 1999 of the European Jewish University by rabbis René-Samuel Sirat and Claude Sultan, the Jérôme Cahen cultural center was created in the adjoining building of the synagogue.