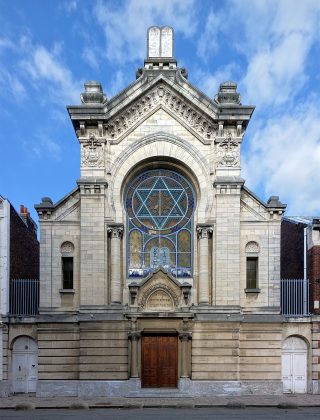 The Jewish presence in Lille is indicated from the Middle Ages. Many "rue des Juifs" existed in the region at this time, notably in Lille, Bavai, Maroilles and Sains.
In 1023, thirty Jews from Lorraine were authorized by the Count of Baudouin to settle in the North, in the towns of Hautmont, Bavai and Cambrai. Like other Jewish communities in the region, Jews were expelled from the Kingdom in 1394.
Their return to the region materialized on the eve of the Revolution, with the arrival of Alsatian Jews in particular. When the consistories were created, the North depended on that of Paris. In 1809, according to a census, there were one hundred and sixty-six Jews in Nord and sixty-three in Pas-de-Calais.
In 1891, the  synagogue of Lille was inaugurated. The building is in the Roman-Byzantine style. The 17-meter nave is supported by twelve cast iron pillars symbolizing the twelve tribes. A sculpture of the Tables of the Law can be found atop the synagogue.
In 1932, more than five hundred Jewish families resided in Lille, 90 in the vicinity of the city, 116 in Valenciennes and its surroundings, 300 in Lens and its surroundings, 45 in Douai, 44 in Roubaix-Tourcoing, 33 in Dunkirk, 30 in Boulogne-sur-Mer, 16 in Calais and 40 in Amiens
Among the great personalities of the city, Armand Lipman, born in 1857, is the son of the Chief Rabbi of Lille: Benjamin Lipman. An officer out of polytechnic, he fought during the First World War, like his three sons. Commander Lipman was best known as a journalist, contributing to the reviews Faith and Awakening, L'Univers Israélite, Archives Israélites and the Revue Juive de Lorraine. He also participates in the activities of the Alliance Israelite Universelle.
Many refugees settled in the interwar period in the Lille region.
During the occupation in October 1941, 987 Jews were enumerated for the Nord department, the rest having chosen exile. Lille and the North coming under the military government of Brussels, the big roundup took place at the same time as those of Belgium: September 11, 1942. Jews were arrested and taken by train to Mechelen and others parked in camps in work to build the Atlantic Wall from summer 1942 to summer 1944.
Holocaust survivors rebuilt the community after the war. A presence reinforced by the arrival of the Sephardim in the 1960s. Today there are around 3,000 Jews in the Lille region.