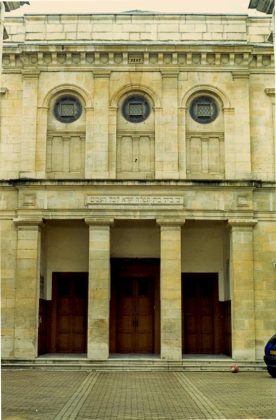 On the day of tishah b'ab -the commemoration of the destruction of the Temple of Jerusalem- the old synagogue resounds to these words in Spanish: "Hemos perdido Sion pero tambien hemos perdido. España tierra de consolacion" (We have lost Zion, but we have also lost Spain, land of consolation").
Bayonne's synagogue was built in 1837, but its Holy Ark, kept from the earlier place of worship, dates back to the reign of Louis XVI. It is said that even some of the Torah scrolls are of Spanish origin, from before the expulsion of 1492. They are said to have been brought by Marranos fleeing persecution.
Located at the corner of the avenue des Foix avec avenue du 14 Avril, the  cemetery was created in 1660. It contains the tombs of the community leaders and, surprisingly, those of eighteenth century Jewish corsairs.
Chocolate at Saint Esprit les Israélites
In the seventeenth century the Jewish immigrants from Spain were cast out of central Bayonne and settled in Saint Esprit. This quarter became known in popular parlance as Saint Esprit les Israélites because Jews constituted the majority of its population -which was extremely rare in France. It was a Jew of Spanish origin, Gaspar Dacosta, who introduced the art of chocolate-making to Saint Esprit, and indeed in France.