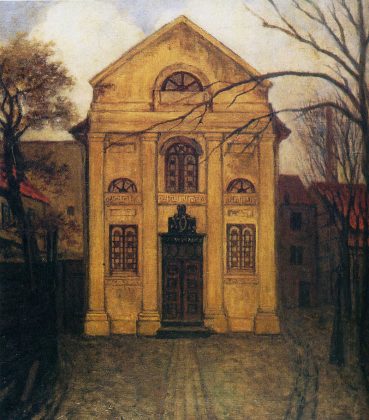 Marranos fleeing the Inquisition settled in Hamburg at the end of the 16th century. They quickly became active in the city's life, making their mark in many professions related to the city's economy: port construction, banking, weaving, sugar and tobacco imports… But also the printing of books in Hebrew. The Sephardic community had three synagogues in the 17th century.
Shortly after the establishment of Sephardic Judaism in Hamburg, an Ashkenazi community was established in the early 17th century. This community was strengthened by the arrival of Jews from the East, fleeing persecution. In 1671, the three congregations of Hamburg, Altona and Wandsbek united.
At the beginning of the 19th century, about 6,500 Jews lived in Hamburg. The political activity of Gabriel Riesser enabled the Jews to obtain citizenship in 1850. A great deal of cultural activity took place, including the art historian Aby Warburg and the philosopher Ernst Cassirer. Hundreds of books in Hebrew were published between the 17th and 19th centuries. One of the first liberal synagogues was built in Hamburg in 1844, mixing Gothic and Moorish styles. The ruins of this  synagogue can be seen today.
At the turn of the 20th century, the Jewish community became one of the largest in Germany, with nearly 20,000 Jews. After the Nazi regime took over, thousands of Jews fled. About 9,000 Hamburg Jews were murdered during the Holocaust.
In the aftermath of the war, a small community of hundreds of surviving Jews was established. Until the end of the 1980s, the number of Hamburg Jews fluctuated between 1000 and 2000. The arrival of Jews from Iran and the former USSR strengthened the community. In 2020 the decision was made to rebuild the  Bornplatz synagogue. In 2022, there are about 2500 Hamburg Jews.
Hamburg possesses ancient Jewish cemeteries, among them the  Altona cemetery with Sephardic and Ashkenazi graves and the  Ohlsdorf cemetery where many soldiers are burried.