Ancient Synagogue of the Agora of Athens
Monastiraki Flea Market, Ifestou, Athens, Kentrikos Tomeas Athinon, Greece
Etz Hayyim Synagogue of Athens
Etz Hayyim Συναγωγή, Melidoni, Athens, Greece
Beth Shalom Synagogue of Athens
Melidoni 5, Athina 105 53, Grèce
Jewish Museum of Athens
Nikis 39, Athina, Grèce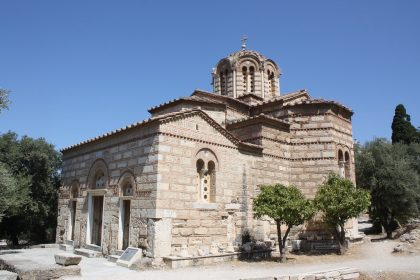 A Jewish presence has been proven in Athens during the Hellenistic period, just as in Alexandria. It is certain that Paul of Tarsus came here, as elsewhere in Greece, to preach in Athenian synagogues. One of them, dating from the third century C.E., appears to have been identified at the Agora, at the foot of the Acropolis. However, for several centuries afterward there was no sign of a Jewish presence in the city. This ancient city was nothing more than a modest village of 4500 in 1833, the year it was declared the country's capital.
Jews returned here in the wake of the first Bavarian monarchy. After his enthronement, King Otto I confided to a group of notable Jews "that he considered his realm blessed and honored to contain within its borders the biblical race of Israel". This laudable declaration of principle, however, could not prevent outbursts of anti-Semitism by the populace. After seeking to put an end to a traditional anti-Jewish ceremony, the "hunt for Judas", Jewish businessman and British citizen David Pacifico saw his warehouses looted in the mid-nineteenth century. England intervened on his behalf, and went so far as imposing a brief blockade of Greece's shores as a means of obtaining heavy compensation.
Far less sizable than the one in Thessaloniki, the Jewish community of Athens nevertheless proved to have better relations with both the government and general population. The city's seizure by the Germans in 1943 marked the beginning of the terror. Active resistance by the authorities, in particular by chief of police Anghelos Evert and Orthodox archbishop Monsignor Damaskinos, was exemplary.
The ancient synagogue
At the foot of the Acropolis, within the Agora's vast flied of ruins, archaeologists believe they have identified a  synagogue dating to the third century C.E. The foundations of this ancient synagogue have been unearthed near the statue of Hadrian and the apse of an old basilica. A marble surface has been discovered on which a menorah and a palm branch are engraved.
The modern synagogues
Around 500 yards northwest of the Agora, at the end of Ermou Street near the ruins of the ancient Keramiko cemetery, are Athen's two modern synagogues. Located in a trendy neighborhood full of bars, the synagogue lie on the opposite sides of Melidoni Street.
Built at the turn of the century, the older of the two,  Etz Hayyim, has also been nicknamed Ioanniotiki dur to its popularity among Jews from Ioannina. It is open only during the high holidays.
The other synagogue,  Beth Shalom, is a Neoclassical-style marble edifice, dating to the 1930s.
The Jewish Museum
After spending twenty years facing the former royal garden, the  Jewish Museum of Athens[/site has recently been transferred to a newly renovated neoclassical house on the Plaka. A large collection of documents, clothing, and religious artifacts from the Romaniote and Sephardic communities is displayed here by theme and by floor.
The former Romaniote synagogue of Patras has been rebuilt here on the first floor. With the new name of Alka Betz, it was dedicated in 1984 by the grand rabbi of France, Samuel Sirat. The cycle of Jewish holidays is observed on the second floor; the third floor contains historical documents about the Jewish communities of Greece, traditional costumes, and cultural and domestic objects, as well as an exhibit dedicated to the Shoah. The museum also features exhibit space, a library, and a souvenir shop on the first floor