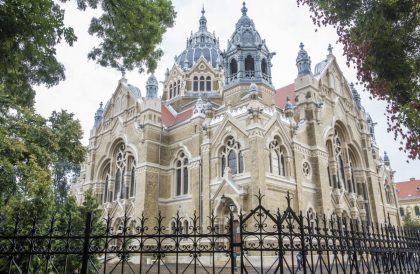 Half a day will suffice to see the synagogue in Szeged, one of the most interesting ones in Hungary (1903).
With its Baroque dome, Roman columns, and Byzantine-inspired bellows, the monumental building is a hymn to eclecticism. At the entrance, two plaques honor rabbis Lipot, a reform pioneer who was the first to deliver his sermons in Hungarian, and Immanuel Loew, son of the former whose passion for botany inspired the floral motifs of the decor. On both sides of the nave, beautiful stained-glass windows count out the Jewish holidays.
Everything exudes opulence: the aron and bimah are made out of the marble from Jerusalem, while the menorot are made from ormulu set in semi-precious stones. Jews prospered here thanks to commerce and the wood and paprika industries. The dome's superb stained-glass windows are by the famous Jugendstil artist Miksa Róth. Concerts are sometimes held here, with the money going to helping maintain the synagogue.
There's also a Jewish cemetery in Szeged.