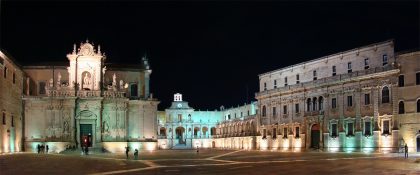 Lecce had one of the most prominent Jewish settlements in the Neapolitan kingdom before the expulsion of the Jews. Though there is no evidence of a Jewish presence prior to the 15th century, there are traces its existence Lecce at the time of the Normans (G. T. Tanzi, "Gli Statuti della Città di Lecce," p. 19, Lecce, 1898).
Their occupations were mostly textile dyeing (silk and wool), cattle-raising and money-lending. They were not allowed to own real estate or engage in the higher callings. They were also forced to wear distinguishing badges on their dress. Still, the Jews were protected by the law and seem to have been free from persecutions. When the last Count of Lecce, Giannantonio del Balzo-Orsini, died in 1463 and the city came under the direct rule of Ferdinand the 1st, King of Aragon, there was an outbreak of violence against the Jews. During this time the ghetto was sacked, a number of Jews were killed, and the remainder driven away.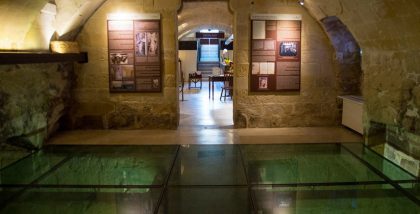 In 2016, on the site of what once was the giudecca synagogue, opened the Palazzo Taurino – Jewish Medieval Museum of Lecce. The museum explores the everyday life of the Jewish community in Puglia between the ninth and fifteenth centuries. Some elements were excavated from the ghetto -such as a mezuzah or scriptures in Latin or Hebrew. You can as well visit the mikveh which was discovered under the building. As the museum is located in the center of the giudecca, it is a good starting point for your visit of the neighborhood. The streets names still bare traces of the medieval Jewish community. Via della Sinagoga, Via Abramo Balmes (in homage to the Jewish physician born in Lecce), Vico della Saponea (soap makers, principal activity of Jews in Lecce). The museum provides guided tours of the giudecca.
Source : JItaly