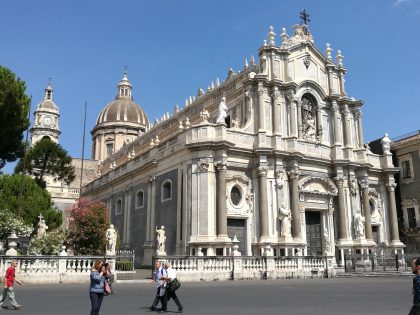 The Jewish presence in Catania seems to date from at least the 4th century, as attested by a tomb from 383. During the Middle Ages there were two Jewish quarters in the city, each with a synagogue. The first was located in the heights of Montevergine, the second in the lower part of the city. Nevertheless, the Jews were not confined to these quarters and were gradually able to participate in the active life of Catania like all other citizens.
This emancipation was particularly significant at the beginning of the 15th century, when 200 Jewish families lived there. Documents from this period show the variety of activities open to the Jews in administration, agriculture, medicine and trade. They lived mainly in two neighbourhoods: Judeca Suprena (located between the Bastione degli Infretti and the Bastione del Tindaro) and Judeca Suctana (located along the Amenano River). Each district had its own synagogue.
Nevertheless, until 1466, the Jews were subjected to a much higher level of taxation than the other inhabitants. Despite a relative appeasement, the threats of the Inquisition and its implementation in 1492 brought about the end of Jewish life in Catania.
At the beginning of the 16th century the remaining Marranos in the city, about 40 people, were protected by the political authorities.  The traces of this heritage were destroyed at the end of the 17th century by the eruption of Mount Etna and an earthquake.
Two plaques have been placed in memory of the Jewish presence in the city. The first is in the Senate Palace. It was placed on the first anniversary of the expulsion from Sicily. The second was placed in the  Cathedral of Catania.