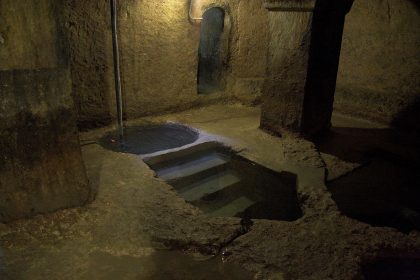 There is proof of a Jewish community in the Middle Ages in Sicily, particularly in the towns of Palermo, Messina, Taormina and Syracuse. This prosperous community was mainly in activities of commerce until their expulsion in 1492 by Ferdinand II. Only in 1989 will be unveiled one of the most beautiful treasure of the Jewish European heritage: Syracuse's mikvah, this oldest known ritual bath of Europe up to this day.
The mikvah, long of 9 meters can be found under the foundations of the Alla Giudecca hotel, at the center of what was once the Jewish quarter of Syracuse. It was probably covered in stones and hidden to the world's eyes by the Jews themselves when they were expelled in 1492, maybe in the hope to find it intact at their hypothetical return. The ritual bath dates from the sixth century, adapted from a Byzantin basin and was in use until the expulsion.
The visit of the mikvah starts in the hotel itself. You will have to go down 48 steps leading to a square room which vaulted roof is supported by four columns. The three ritual baths are surrounded by stone benches. Another two small rooms contain other baths, certainly used by more prosperous faithfuls.