Stara Synagogue of Rzeszów
Bożnicza 4, Rzeszow, Poland
Duza Synagogue of Rzeszów
Jana III Sobieskiego 17, Rzeszow, Poland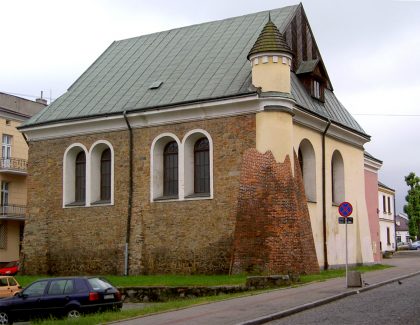 Jews began to settle in Rzeszów in the fifteenth century and, in the seventeenth century, built two synagogues, both of which remain, almost side by side. They are fairly easy to find, located right in the city center.
The Stara (Old) Synagogue, dating from the first years of the seventeenth century, today houses the city archives. It is rather small, but well restored on the outside. A Star of David can still be seen on one of the walls.
The Duza (Large) Synagogue is from 1686, It is more imposing, with large bearing walls reinforced by pillars that give it the look of a fortress. rebuilt in the 1960s, today it houses an art gallery office in the main room and an upstairs café in the galleries for women. A visit to the site offers a glimpse of what the interior looked like before the war, when 14000 Jews lived in Rzeszów. They were all deported to Belzec or Auschwitz.
On Rejtan Street, a large Jewish cemetery remains, its many graves damaged, however, with overturned tombstones, and sometimes overgrown with vegetation.