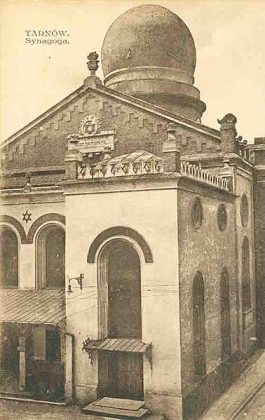 In Tarnów, half of the population was Jewish: between 20000 and 25000 people worked principally in the clothing and hat industries (sixty or so businesses), arts and crafts, and trade. Some were rich merchants, lawyers, and doctors who owned beautiful houses still dominating Walowa Street. The others, poorer, were concentrated mostly in the populated districts around Zydowska, Warynskiego, Lwowska, and Szpitalna streets. Renowned intellectuals were born or lived in Tarnów, including Warsaw Ghetto eulogist Adolf Rudnicki (1912-90).
The most important remnant, but also the most "trivial" of earlier Jewish life, is the bimah from the old synagogue on Zydowska Street: the synagogue itself was razed, leaving only a patch of green, in the center of which sits the former stone bimah, reminiscent of a fountain.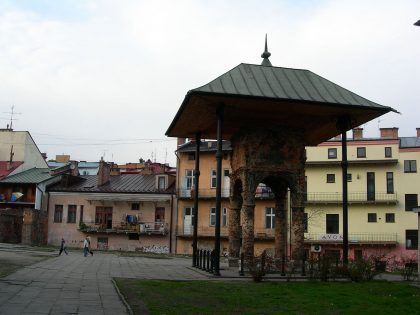 Behind the bimah, take Rybna Street to see the former Jewish houses with courtyards crisscrossed by upstairs galleries. Beyond Walowa Street, on Goldhammer Street, stood the Jewish community's prayer house, where services have not taken place since 1980 for lack of a minyan. A bit further on, in what used to be the ghetto, lie Wiezniów Oswiecima (Prisoners of Auschwitz) and Bohaterów Getta (Heroes of the Ghetto) square, where a monument stands to the victims of the Shoah, not far from the old mikvah, today a spa.
Nowodabrowska Street leads to the Jewish cemetery on Sloneczna Street. The cemetery dates to 1583 and is one of the oldest in the region. It remains active, though devastated: the most luxurious gravestones have been destroyed or stolen. At the entrance stands a columns that came from the Nowa (New) Synagogue commemorating the massacre of 25000 Jews of Tarnów, on the spot where the first mass executions took place on 11 June 1942.