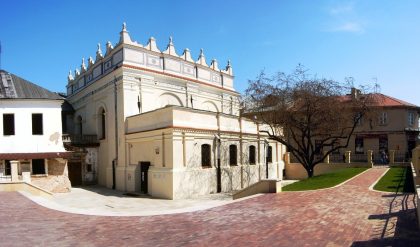 Zamosc is a magnificent example from the Polish Renaissance era. Built in the sixteenth and seventeenth centuries by Italian architects in the service of Kings Sigismund and Casimir, the city offers a distinctive architectural unity, with its wide-stepped city hall, central square lined with beautiful Renaissance and Baroque mansions, and its crisscrossing of old, narrow streets arranged around the city wall and gates.
The Jewish community began settling here in 1588, after the waycode Jan Zamojski allowed Sephardic Jews from Italy, Spain and Turkey to come to his city, and even granted privileges. In the seventeenth century, they arrived in even greater numbers. During the eighteenth and nineteenth centuries, the Haskalah developed in Zamosc, the Jewish enlightenment and emancipation movement imported from Berlin and Vilna (Vilnius). When Poland was divided, Zamosc fell within the Russian Empire. Yiddish writer Itzhak Leybush Peretz was born here in 1851, and he remained for thirty-six years before moving to Warsaw. The revolutionary Rosa Luxemburg, murdered in Berlin in 1919, was also born here, in 1870. In 1856, 2490 Jews lived here; in 1921, they numbered 9383 (or 60% of the population) and, just before the war, 12000. They were all deported to Belzec in April and May 1942.
The former Jewish quarter was located around Zamenhofa and Pereca streets. The synagogue at 9 Zamenhofa Street was built between 1610 and 1620 in late Polish Renaissance style, like other important buildings in Zamosc. Destroyed during the war, restored in the 1950s and 1960s and again in 1980, it still boasts its Renaissance-style gate. On its exterior walls, a frieze bears images of envelopes, but this is not a post office: it is a public library.
The Jewish community house (dom Kalhany) and a mikvah dating to 1877 are located beside the synagogue.
Itzhak Leybush Peretz
Itzhak Leybush Peretz (Icchok Leib Perec in Polish) is considered, with Sholem Aleichem and Mendele Moykher Sforim, one of the classic authors of Yiddish literature. Born in 1851 in Zamosc, he began writing in Polish, then Hebrew, but, in 1888, settled on Yiddish, at the time considered merely a jargon, mameloshn. He spent more than ten years here working as a lawyer, then set out for Warsaw, where he strove to define Yiddish culture and founded a daily newspaper, Der Veg. His funeral procession in 1915 included 100000 people. French novelist Georges Perec, whose parents hailed from Lubartów near Lublin, maintained he was a great-grandnephew of Peretz (see W, or the Memory of a Childhood [London: Harvill Press, 2000]).