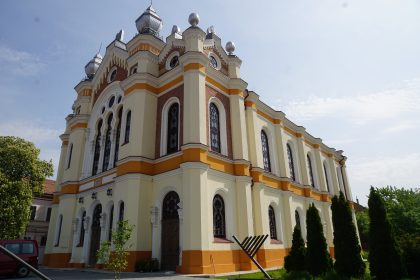 The community of Oradea, exterminated during the war, dates back to the 15th century. Today, a  reformed synagogue still works for the few Jews in the city.
The Jewish Museum of Oradea was inaugurated at the end of 2018 in the recently restored synagogue and reconsecrated Hinech Neorim. The museum, which presents the history of the local Jewish community and that of the Holocaust, is a branch of the Municipal Museum. On the ground floor of the museum, there are explanatory panels and objects that trace the history of this city that was home to one of the most important communities in Transylvania. The permanent exhibition explains how the community participated in the building of the city. It is believed that the presence of a Jewish community dates back to the 15th century. In the eighteenth century, the community is organized. On the eve of the Second World War, Jews made up about a third of the population of Oradea – out of a total of 30,000.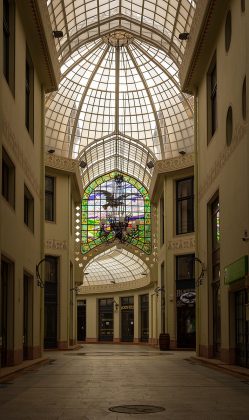 Oradea is known for its many art nouveau buildings, many of which were built by Jewish architects and / or belonged to the Jewish elite of the city. This is particularly the case of the  Black Eagle House, built in 1908 by the Jewish architects Marcell Komer and Dezso Jakob, the same who were behind the Subotica synagogue in Serbia.
The first floor of the museum features a permanent exhibition and Holocaust memorial. There is a symbolic railway rail and the names of the 30,000 local victims.
As for the synagogue that houses the museum, it was built in the late 1920s by the architect Istvan Pinter. It is the most modern of the last six synagogues still visible in Oradea today. The building belongs to the Jewish community, but it is the heritage department of the city that has been in charge since 2016.
The magnificent  Zion synagogue on the banks of the Cris River served the neologue community. It was built by the city's architect, David Busch, in 1878. It was rededicated in 2015, after a complete renovation. It now houses a cultural center. Finally, the  Great Synagogue of the city was reconsecrated in September 2017, after 8 years of restoration.
You can also visit two other synagogues in Oradea: the  Teleki synagogue, built in the 1920s; and the  Chevra Sas synagogue, it was built in 1822. It now houses a community of 500, the largest in Romania.