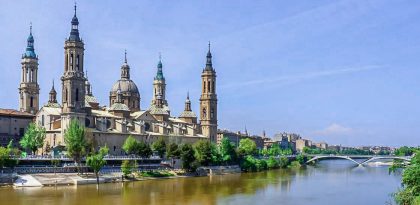 The Jewish presence in Zaragoza probably dates back to Roman times. The  Jewish quarter was mainly located within the walls built at that time, in the south-eastern part. This was the case until the Inquisition. Six gates led to it. No longer existing, it was located between the Seminary of San Carlos and the Magdalena Square, with its centre on Santo Dominguito Street. The neighbourhood housed a synagogue, a butcher's shop and a hospital.
Following the development of the Jewish community in the 13th century, another Juderia was built to the south of the old one, between Coso and San Miguel streets. This area is now called Barrio Nuevo. Many synagogues were built here.
The Jews worked mainly in the textile industry. With the famous draperos, displayed in shops inside and outside the Juderia. A flourishing economy, but one that was accompanied by severe differences in the standard of living among the Jews of Zaragoza, prompting the creation of numerous educational, social and medical institutions to help the Jewish workers.
Nevertheless, during the first half of the 14th century the situation deteriorated for the Jewish community as a whole, mainly due to the very high taxations and above all to the Black Death, which decimated the majority of its followers. The rebirth of the community in the second part of the century was notably the work of the Cavalleria family. First of all, Don Vidal de la Cavalleria was a prosperous businessman, close to the kingdom and a great scholar. Then Judah Benveniste de la Cavalleria who developed the family business and whose house served as a centre of learning in the 1370s.
Then it was Hasdai Crescas (1340-1410) who took over the leadership of the community. A successful businessman, he was best known in Zaragoza for his great talmudic and philosophical knowledge. And much more, since after the persecutions of 1391, which had little effect on Zaragoza, where the king maintained a residence and ensured the protection of the Jews, Crescas, who lost his son during these persecutions, organised aid from Zaragoza to the Jewish communities of Navarre affected by the riots. A street in Jerusalem was named in 2011 in honour of Hesdai Crescas.
Sources : Encyclopaedia Judaica