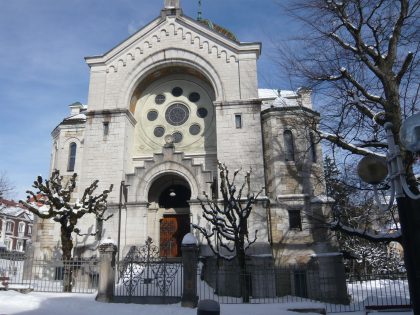 Founded in 1833, the Jewish community of La Chaux-de-Fonds met in a flat on rue Jaquet-Droz. Then, in 1853, a private house was used as a synagogue. From 1872, a  Jewish cemetery was used in the commune of Les Eplatures.
La Chaux-de-Fonds's Jewish community opened its first synagogue in 1896. Architect Kuder was inspired by the synagogue in Strasbourg, which was later destroyed by the Nazis. In Romanesque style and constructed in freestone, the building contains and 105-foot-high octagonal dome with twenty-four windows and covered in polychromatic tiles. The facade includes the tablets of the Law and two turrets. Inside, the central dome and four smaller domes at each corner are multicolored, in harmony with the stained-glass windows. The principal motif is a Star of David, from which rays extend that bear the names of biblical characters upon a starry sky.
In 1900, La Chaux-de-Fonds was the fourth Swiss town with the most Jewish inhabitants, after Zurich, Basel and Geneva. Some of the great names in the watchmaking industry lived there. Other professions practised by the Jews of La Chaux-de-Fonds include crafts, antiques and teaching. They also played an important role in the arts and culture, as well as in the world of sport.
In the second half of the 20th century, the Jewish population fell. At the turn of the millennium there were 70 Jews.