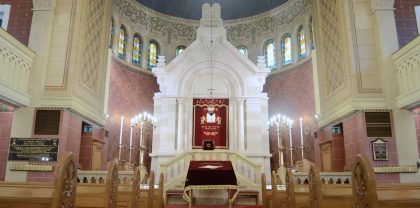 The Jewish presence in Lausanne is attested continuously from 1848 onwards when several families met in a rented room. In 1895, the community had 41 members. In 1909, there were 110 members. It should be noted that the vast majority of Jews did not participate in community life. In 1909 there were 989 people of the Jewish faith in Lausanne. Kosher meat was imported from Evian because of the laws on slaughter.
An oratory was inaugurated in the ruelle du Grand-Pont in 1878. A prayer room was used from 1884 on rue du Petit-Saint-Jean. In 1898, a synagogue was built in rue du Grand-Chêne. In this impetus Lausanne's  synagogue, was built in 1910 in a fairly remote neighborhood at the time. It can be found today right near the train station in the heart of the city.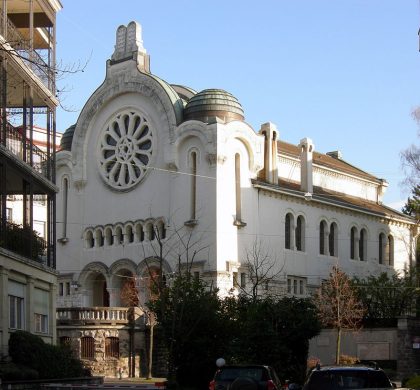 Its Romano-Byzantine style is reminiscent of the synagogue located on rue Buffault in Paris: Tablets of the Law dominate its facade, which contains a rose window shaped like a Star of David; it also features semicircular window arches, Romanesque apses, and two towers. The interior is noe-Byzantine.  The Community Center is adorned with stained-glass windows by Jean Prahin.
There are two cemeteries that are used by the Jews of Lausanne. The ones  Cery ,  Prilly and another one further in  Vassin . The one in Prilly dates from the beginning of the 20th century when the cemetery used until then in Montoie reached saturation. The graves in Montoie were transferred to Prilly in 1950. A second cemetery was created in Prilly in 2002.
Jewish life in Lausanne experienced a boom from the 1970s onwards, particularly thanks to the arrival of Sephardic Jews. Religious services became more regular and a school group was created. In 1975 the first Bulletin of the Jewish Community of Lausanne was published.
In 2010, the 100th anniversary of the Lausanne synagogue was celebrated.