Synagogue of Basel
Eulerstrasse 2, 4051 Basel, Switzerland
Jewish Museum of Basel
Kornhausgasse 8, 4051 Basel, Switzerland
Community Center of Basel
Leimenstrasse 24, 4051 Basel
Chabad Feldinger Jewish Center
Chabad Lubavitch Basel, Ahornstrasse 33, 4055 Bâle, Suisse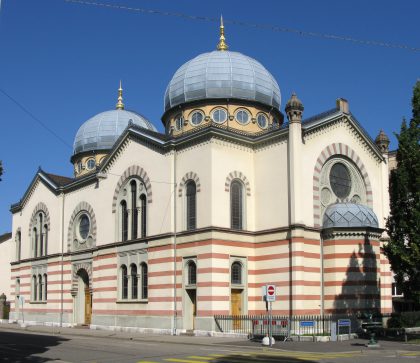 The Jewish presence in Basel probably dates from 1213. During the Middle Ages, as in many other cities in the region, the situation of the Jews varied between acceptance, persecution and expulsion, depending on the power in place. In the wave of major expulsions that took place between the end of the 14th and the end of the 15th century, the Basel Jews were expelled in 1397.
"In Basel, I created the Jewish State", wrote Theodor Herzl in his diary after attending the First Zionist Congress, held from 29 to 30 August 1897. Nine more congresses would take place in Basel. A street in his name and a plaque in the casino serve as a reminder of the Zionist adventure's origins in Basel.
First opened in 1868, the  synagogue is the work of the architect Hermann Gauss, who took the one in Stuttgart, with its neo-Byzantine, Moorish, and Romanesque styles, as his model. It was enlarged twenty years later, and a second dome was added. During a further renovation in 1947, someone decided to cover the synagogue's brightly colored walls in uniform gray. This gray corresponded better to the austerity of the era and local taste.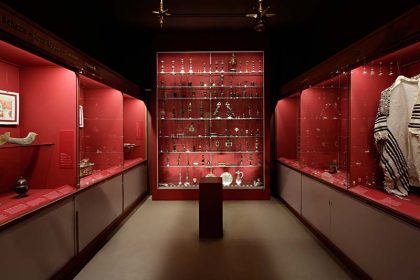 Forty years later, the colors of yesteryears resuscitated the refinished building. Modernizing the motifs had nonetheless dampened the eastern style. Inside, yellowish beige dominates, with blue and red decorations. A multitude of golden stars stand out against the dome. The polychromatic facades are red and white.
The only  Jewish Museum in Switzerland (Jüdisches Museum der Schweiz) is found in Basel. Its collection reflects the region's Jewish heritage and features books in Hebrew printed in Basel, gravestones, and documents on Jewish history and the Zionist congresses.
The Community Center houses as well the kosher restaurant Topas.
In 2012 the first synagogue in 83 years was opened. At that time, the Jewish community numbered almost 2000 members. It is part of the  Chabad Feldinger Jewish Centre. It is located next to the Chabad Synagogue. It was vandalised in 2018. In the same year a kosher butcher shop was attacked several times.