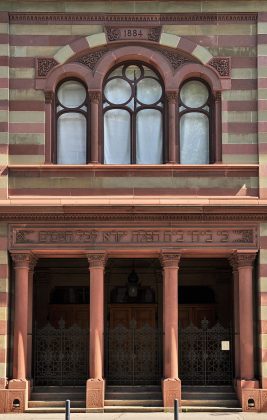 The Jewish presence in Zurich probably dates back to the 13th century. During the Middle Ages, as in many other cities in the region, the situation of the Jews varied between reception, persecution and expulsion, depending on the power in place. In the wave of major expulsions that took place between the end of the 14th and the end of the 15th century, the Jews of Zurich were expelled in 1436.
Zurich contains the headquarters of the  Swiss Federation of Hebrew Communities, founded in 1904 and whose archives were recently entrusted to the Zurich Federal Polytechnic School for better preservation there.
The collection includes the documents from JUNA, the FSCI press office, the Union of Jewish Mutal Aid Societies, the Swiss Refugees Council, the Union of Jewish Students, and the Action Group for Jews in the Soviet Union, along with extensive private archives.
The former ghetto of the Brunnengasse was the site of a 1349 pogrom against the Jews, who were accused of having spread the plague.
A commemorative plaque was unveiled 650 years later at 4 Froschausgasse, where the former synagogue stood. The narrow, nameless alley that leads to the Neumarkt was renamed Synagogengasse. In 2020, the Jewish community numbers 2500 members.
Today the  Israelitische Cultusgemeinde Zurich (ICZ), founded in 1862, represents the most important Jewish community in Switzerland.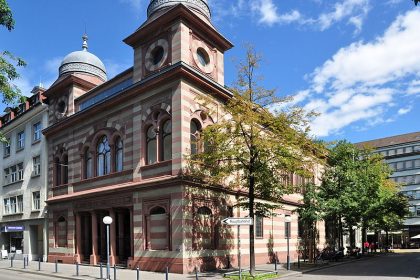 The ICZ's synagogue, at the corner of the Löwenstrasse and Nuschelerstrasse, was built in 1884 in Moorish style; it features a beige and red-striped facade, two towers topped by domes, and traditional windows.
Its community centre housed a kosher restaurant which was closed in 2019. Another one was to open in 2020. There is also a school, a library and a mikve.
In addition, three disctint Jewish communities inhabit the city, each centered upon its won synagogue: the Orthodox  Israelitische Religionsgesellschaft; the Reform  Or Chadasch community; and finally, the sizable Hasidic community around the  Agudas Achim Synagogue, which gives off a truly shtetl ambiance.
In 2020, the Jewish population was estimated to be around 7,000. There are two kosher shops in the city including The Shuk, located on Waffenplatzstrasse.