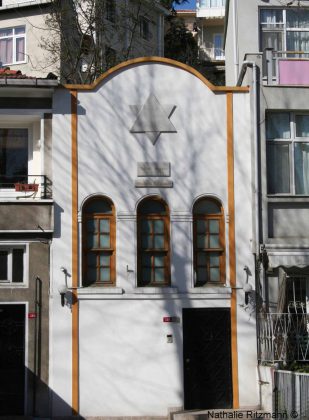 In the nineteenth century, the villages along the Bosporus sheltered numerous "minorities" -Greeks, Armenians, and Jews. Swallowed up today by the great metropolis, Ortaköy, Arnavutköy, Bebek, Yeniköy, and others have become sought-after residential areas with interesting traces of this Jewish past, most noticeably in Ortaköy. On the hills and beyond extend the elegant new neighborhoods of Istanbul. This is where many wealthy Jewish families have settled since the interwar period, and especially in the last few decades, preferring its beautiful spacious avenues to Pera'a cramped streets. With the large Beth Israel Synagogue and the administrative offices of most Jewish clubs and associations, today the heartbeat of the Jewish community in Istanbul is felt most strongly in Nisantasi and Sisli. The weekly journal Shalom is also located here, with a small  bookstore where one can find books on Turkish Judaism.
The Etz Ahayim Synagogue stands near the Bosporus in Ortaköy along the edge of the isthmus where the great ships cross between the Black Sea and Sea of Marmara. The site is one of striking beauty, even if a rather plain and uninteresting modern building has replaced the former structure, which was destroyed by fire in 1941. The original synagogue, which was one of the oldest in Istanbul, was reconstructed in the eighteenth century. In the last few decades, a small Jewish community has formed in Ortaköy. Many of its members came from the great bazaar quarter, where their homes were destroyed by a fire. The synagogue's magnificent marble aron, featuring two finely carved neoclassical columns and carved wood doors, dates from the early period. Nearby stands the small building housing the Midrash, saved from the 1941 fire and which for more than a century had served the quarter's Ashkenazic synagogue.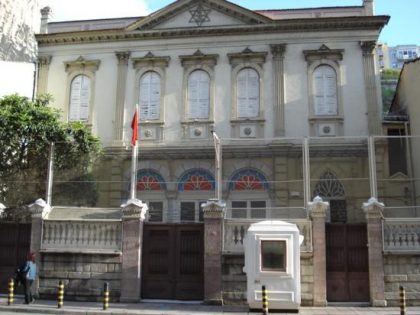 As you walk around Ortaköy, notice the row of eighteenth Jewish corbelled wood houses (los diziogos) on Bulguruc Street. At the top of the hill is a small Jewish cemetery established in the nineteenth century and later abandoned. Unfortunately, many of the beautiful tombstones have been destroyed.
As you walk north along the Bosporus, you will come to Yeniköy, where a small reconstructed eighteenth-century  synagogue is still in use.
The Beth Israel Synagogue is currently the most active and most frequented synagogue in Istanbul. Modern and functional, the building was enlarged in 1952 according to plans by the architect Aran Deragobyan. Especially noteworthy is the lovely stained-glass above the large 500-seat rectangular prayer hall.