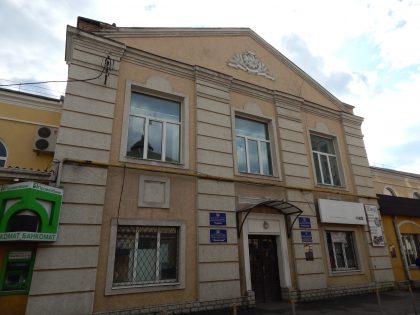 The terrifying war against Ukraine changes, of course, the function of these pages devoted to the Jewish cultural heritage of that country. Many of the places mentioned were razed to the ground by bombs. While these pages are not intended in the present time for tourism, they may be useful to researchers and students as historical references. References to so many painful histories during the pogroms and the Shoah, but also to the glorious history of Ukrainian Judaism, in its cultural, religious and Zionist dimensions. Wishing the Ukrainian people a speedy end to these atrocities of which they are victims.
On the road from Lvov to Kiev, the most important city is Rivne, formerly a Polish city called Rovno, that was over 40% Jewish before the war.
It is worth a stop to see what remains of its Jewish quarter on Zamkowa Street; the spacious Wielka (Ancient) Synagogue at the street's intersection with Skolna Street towered over the whole neighborhood (it has since been converted into a gymnasium). Beside it stands the even older Mala (Small) Synagogue, which is again active.
The Sosonki memorial
On the road to Kiev, around two miles from Rivne, stands the impressive Sosonki memorial. It occupies the spot where, on 6 November 1941, the 17500 inhabitants of Rovno's ghetto were executed in a single day and left to rot in a huge, circular mass grave. Until 1998, this memorial with its tall marker could be easily seen from the road; the inscription reads "Sosonki" in Hebrew and Cyrillic letters. The inscription was defaced in 1998, and the monument also lost its most original feature: a line of metal characters seeming to sink into the earth. All that remains today are stelae surrounding the mass grave bearing the names of the dead in Yiddish.