Ancient synagogue of Berehove
Ferenc Rakoczi II Transcarpathian Hungarian College of Higher Education, Berehove, Transcarpathie, Ukraine
Synagogue of Berehove
вулиця Зріні, 6, Берегове, Transcarpathie, Ukraine
Jewish cemetery of Berehove
Berehove, Transcarpathie, Ukraine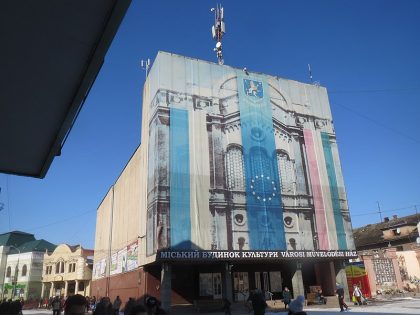 The Jewish presence in Berehove probably dates from the end of the 18th century, when the city was part of the Austro-Hungarian Empire. Most of them come from Polish cities. In this period, Berehove already had a synagogue and a  Jewish cemetery.
According to a census taken in 1921, 4,592 Jews lived in Berehove. A figure which numbered nearly 6,000 a few years later in 1941. They worked in a wide variety of fields: mills, vineyards, shops, medicine and many others.
Following the Munich Agreement and the carving up of Czechoslovakia by Germany and its allies, the region came under Hungarian control. The Shoah was very brutal.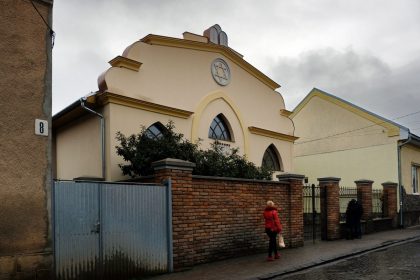 Thus, after losing many rights, the Jews were deported en masse in 1944. 11,000 Jews were deported to Auschwitz, including 3,600 from Berehove.
In 1959, the main synagogue was closed by the Soviet authorities and turned into a theater. As was the case in other towns like Mukachevo, prayers were then held mostly in private apartments. The former  Great Synagogue of Berehove is now a House of Culture. Its facade was covered with a drawn reproduction of the facade of the old synagogue.
While there were still more or less 300 Jews in Berehove in 1970, they are very few today. Nevertheless, a new  synagogue opened its doors recently.