Grand Synagogue of Copenhagen
Krystalgade 12, 1172 København K, Danemark
Royal Library of Copenhagen
Søren Kierkegaards Plads 1, Copenhagen
Freedom Museum of Copenhagen
Churchillparken 7, 1263 København K, Danemark
Jewish Museum of Copenhagen
Proviantpassagen 6 DK-1218 Copenhagen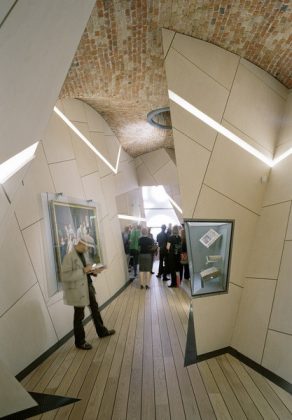 Copenhagen has a  Grand Synagogue constructed in 1833. All information about the synagogue is available at the Mosaiske Troessamfund, which houses a variety of Jewish associations. A strictly Orthodox community prays at the Makhzikei ha-Das Synagogue.
The Royal Library contains the Simonsen Library, which possesses an interesting Judaica section. The  Freedom Museum (Friheedsmuseet) contains a section devoted to the history of Nazi resistance and the Shoah.
Designed by Daniel Libeskind, the  Jewish Museum of Copenhagen presents Jewish life in Denmark through 400 years, and is a selection from the museum's own collection.