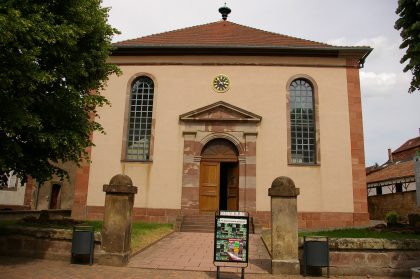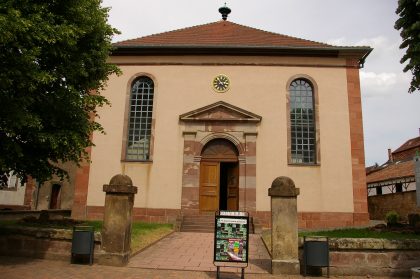 The Jewish presence in Bouxwiller seems to date from the 14th century. The princes of Hanau-Lichtenberg adopted Protestantism and were open-minded towards Judaism and its presence during the Reformation, especially in their capital Bouxwiller. They authorized a yeshiva founded by the patron Seligmann Puttlingen and directed by the Chief Rabbi Wolf bar Jacob. Thus, the number of Jewish families living in Bouxwiller was estimated at 36 in 1725. A small gradual increase followed.
A synagogue was built in the 18th century and replaced in 1842 by a larger synagogue, allowing the 353 Jews living in the town to find an adequate place to pray. Destroyed during the Holocaust, only an oratory was built there after the war and used until 1956 by the community which had lost many members and whose surviving members were aging.
The building has since been transformed into the  Judeo-Alsatian Museum set out to present the life and history of Judaism in the countryside. There are no rich collections here, therefore, but a sequence of displays with re-creations and moving, ritual objects reflecting ordinary life and the major moments of Jewish life in Alsace. The building's empty interior -the Nazis converted it into a factory- allows for a unique architectural experience. It contains a sequence of ramps and platforms that permit visitors to share in the traditions of the Jewish hawkers and wholesale butchers of the countryside. Mannequins with heads in twisted iron and ceramic models also bring to life these lost communities.
The museum hosts cultural events, as was the case in 2021 during the festival of Jewish music with the arrival of the duo Place Klezmer.
Sources : judaisme.sdv.fr et dna.fr