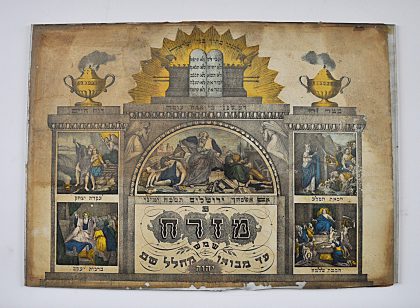 Alsace is rich in Jewish history. In the village of Schirrhoffen, for example, in around 1850, the population of 650 included some 450 Jews. Today, there are over 200 specific sites (synagogues, ritual baths, cemeteries). Unfortunately, though, there are many that visitors cannot see because they are closed, abandoned, or located on private property. Thus, while the small town of  Rouffach (in Haut-Rhin) may pride itself on the vestiges of a twelfth century synagogue, all you will see is the refaced facade of a banal half-timbered house.
Elsewhere, the nineteenth-century village synagogues offer a remarkable architectural panorama. The reality of Jewish emancipation can be read in stone: one need only compare the discreet facade of the synagogue in  Hochfelden (Bas-Rhin), built in 1841, with that of the synagogue in  Saint-Louis (Haut-Rhin), consecrated in 1904, whose two Rhenish-style domes rise proudly to the sky.
In recent years, tremendous efforts have been made to save Alsace's Jewish heritage. restored synagogues and new museums now form a fascinating and unique Jewish itinerary.  The tourism development agency of Bas-Rhin, which is managing this program, published brochures and a calendar of events.