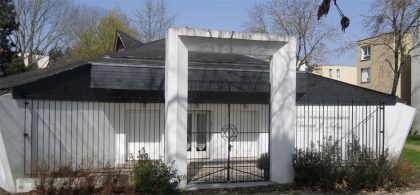 During the 1808 census, only the presence of 11 Jews was counted in the department.
The resettlement of the Jews from Rennes took place in the middle of the 19th century. In 1851, there were thus 8 Jews in the city, including 7 soldiers in garrisons based in the city and 1 Jew from Germany living in Rennes.
In 1872, the figure increased slightly to 28. Among them, 8 soldiers, including the parents of Jules Isaac. His father even became a lieutenant colonel in the artillery and an officer of the Legion of Honor. The French historian and pioneer of Judeo-Christian friendships was born in Rennes.
University city, Rennes counts its prestigious teachers Victor Basch and Henri Sée. During the Dreyfus trial, and faced with a resurgence of anti-Semitism in the city, a small group founded the Rennes section of the Human Rights League in Victor Basch's own home.
In 1940, there were 124 Jews in Rennes and 372 for the entire department. The Jews of Rennes organize themselves as a community formed in the 1960s, rebuilt with survivors of the war and the arrival of Jews from North Africa.
The  Edmond J. Safra Center, inaugurated in 2002, currently serves as a worship and cultural center for the Jewish community of Rennes.