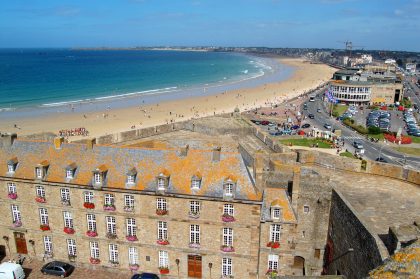 Rue Buhen, nicknamed the "rue des juifs" near the Qui qui en grogne tower, leads to what is now Place Chateaubriand. As early as the 16th century, we find traces of a Jewish presence. Mainly families of craftsmen and traders. The great writer Chateaubriand indicates in Mémoires d'Outre-Tombe that he was born in "this dark and narrow street of Saint-Malo called the rue des Juifs".
The history of the Jews in Saint-Malo knew an astonishing episode. In 1731, an order of the Council of State limited the commercial activities of the Jews by forbidding them to "traffic, sell or debit their goods in any city of the kingdom other than those where they were domiciled". This judgment did not concern fairgrounds.
Israel Dalpuget and Moïse Petit, fairgrounds from Saint-Malo, were banned from the Nantes fair in 1741. They obtained the support of the mayor of Saint-Malo and the aldermen, as well as that of the Countess of Conti. The conflict lasted for twenty years.
During the 1808 census, only the presence of 11 Jews was counted in the department.