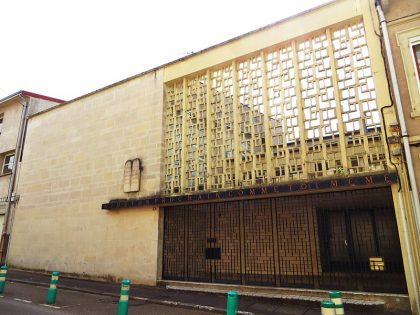 The Jewish presence in Epinal seems to date from the 18th century, following the arrival of merchants from Alsace. But only one Jew was recorded in the city in 1771.
The wind of emancipation of the French Revolution allowed Jews to settle in the city in a more lasting way. Thus, the number of Spinalian Jews increased from 19 in 1806, 350 in 1856, 380 in 1900 to 450 at the dawn of the First World War.
In the interwar period, the Spinalian Jewish population declined to 370 but was reinforced by the presence of Alsatian Jews.
The synagogue was built in 1863, but the community had its first rabbi in 1835. Among the officiating rabbis is Moses Durkheim, the father of Emile, the founder of sociology. The synagogue was destroyed during the Shoah.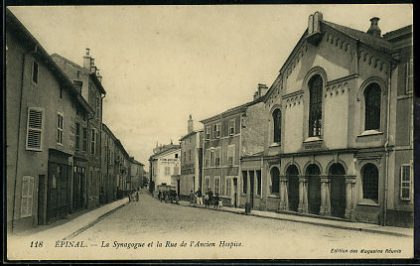 The  Jewish cemetery dates from 1842 and is located on rue Saint-Michel. n memorial in memory of the Vosges Jewish martyrs of the Shoah was erected there. 90 Spinalian Jews are murdered during the Shoah.
  Léon Schwab, decorated soldier during the First World War, lawyer and mayor of Epinal before the war who was forced to resign during the occupation, returns to his post at the Liberation. He is be very active in the cultural promotion of the region, especially after his mandate as mayor.
A new  synagogue was built in the 1950s. The Jewish population is declining and today only represents about 30 families. But with the help of foundations, the synagogue is being renovated and saved from closure in 2018.