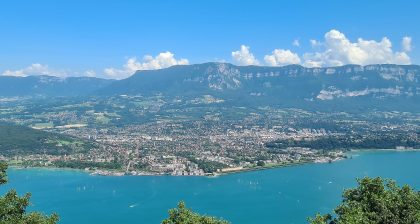 As its name suggests, Aix-les-Bains is a renowned French spa.
The Jewish presence in Aix-les-Bains probably dates back to the Middle Ages, but was quite small. This changed with the emancipation of the Jews of France following the Revolution, and especially with the arrival in the region of Jews from Alsace-Lorraine.
The Jewish community of Aix is best known for its Chachmei Tsorfat Yeshiva ("The Yechiva of the Sages of France"), founded in 1945 by Rabbi Moshe Leybel and Rabbi Ernest Weill to welcome young survivors of the Holocaust who were then living in the city. Since then, it has welcomed thousands of students.
According to a 1970 study by Bernhard Blumenkranz, the Jewish community of Aix-les-Bains numbered 350. Today, the community has several small synagogues of different rites.
Sources : « Les Juifs en Savoie du moyen-âge à nos jours » de Jacques Rachel