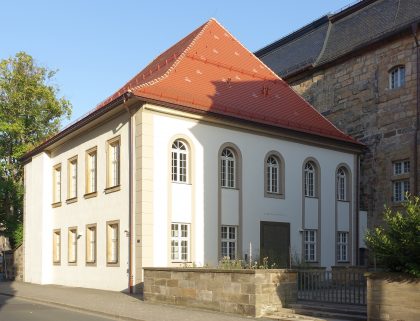 The Jewish presence in Bayreuth probably dates from the 13th century. This can be traced in the writings of Rabbi Meir of Rothenburg. Until the end of the 17th century, they were alternately expelled and readmitted to the city, depending on the good or bad will of the Margraves.
The intervention of Samson of Baiersdorf enabled them to settle in Bayreuth on a more permanent basis. The Jewish population increased from 135 families in 1709 to 346 in 1771. However, the number declined in the following centuries. The Shoah decimated the small Jewish community that lived there at that time.
After the war, a new community developed, which was strengthened by the arrival of Jews from the former USSR.
The city has a beautiful baroque  synagogue that was built in 1759. Inside is a mikveh, probably the oldest still functioning in the country. The synagogue has been restored several times, including in 1965 and 2012. A  Jewish cemetery can also be visited