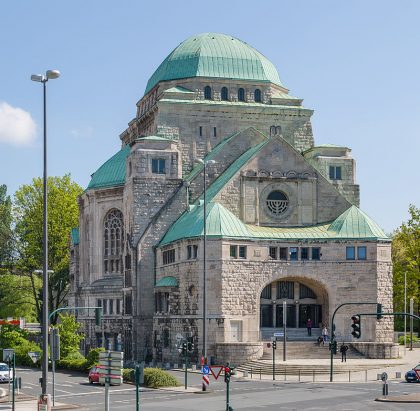 The Jewish presence in the city seems to date from the 13th century. Following the expulsion, they only resettled there in a stable manner at the end of the 16th century, even if their numbers were very small. This did not prevent a synagogue from being built there in 1683.
The Jewish population only increased in the 19th century, from 19 in 1805 to 750 in 1869 and nearly 5,000 in 1930. Many Jews were deported and murdered during the Holocaust. About 100 survivors returned after the war.
An imposing Byzantine-style  synagogue, built in 1913 by the architect Edmund Korner at the instigation of Rabbi Salomon Samuel, is one of the last vestiges of Jewish life before the war. It is one of the largest in Germany, measuring 70 meters long and 37 meters high.
Severely damaged during Kristallnacht, it was restored several times after the war, including in the 1980s to its original appearance. Today it is used as the House of Jewish Culture, presenting exhibitions and hosting events.
A  synagogue was built in 1959. The small Jewish community was strengthened by the arrival of Jews from the former USSR.