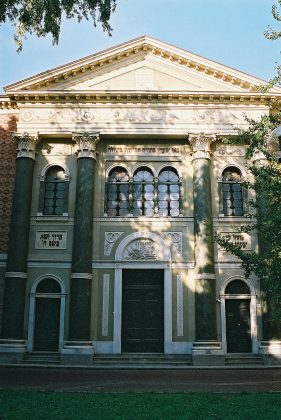 Modena's former Jewish quarter became the ghetto in 1638. The narrow medieval streets have been completely opened up, widened during the vast renewal projects of the early twentieth century that give the city its appearance today.
A beautiful oriental-style synagogue stands in the Piazza Mazzini, which is located on part of the former  ghetto. Constructed between 1869 and 1873 on plans by Ludovico Maglietta, the synagogue has a double facade: one opens onto the Piazza Mazzini, the other onto Piazza Coltellini. Inside, the circular prayer hall is surrounded by a colonnade of Corinthian columns that support the women's gallery.
The Jewish presence in Modena seems to date from the 14th century. They lived there relatively free for the time for the next two centuries. Refugees from the Spanish and Portuguese inquisitions also settled there during this period, as well as German Jewish refugees.
Under Napoleon's occupation, the lot of the Jews improved, acquiring equal citizenship with other Italians.
A document dating from 1368 proves the existence of a  Jewish cemetery. It was located near the present Via della Fosse. It was used until the 17th century. A  Jewish square was set up in the cemetery of San Cataldo.