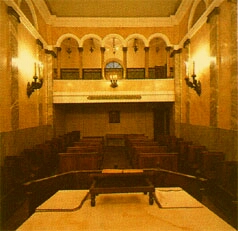 There was a Jewish community in Parma until its expulsion in 1555. The Jews came back during the industrial immigration in the nineteenth century. In 1939, there were about thirty Jews in Parma, 18 were sent to death camps.
The synagogue was inaugurated in 1866. During World War II, the synagogue's furnitures were hidden in the Palatine Library. Some of it were reintegrated to the synagogue after the war, while some other were donated to the Fausto Levi Museum in Soragna.
The Palatine Library is as well home to the largest Italian collection of Hebrew manuscripts, and the second largest in the world after the Bodleian Library in Oxford. The documents were a gift of Maria Luigia Duchess.
The  Jewish cemetery in Parma has been used since the 19th century.