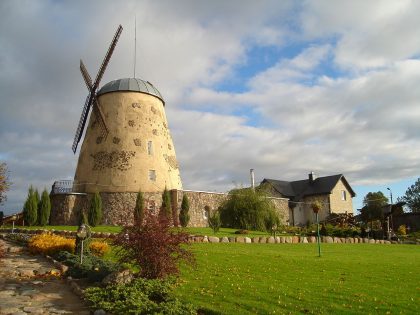 Seduva is a town formerly known for its agricultural production. The Jewish presence in Seduva appears to be quite ancient, dating back at least to the 15th century.
At the end of the 18th century, there were around 500 Jewish families. A hundred years later, they made up 56% of the total population. This number declined in the early 20th century. The town had a yeshiva and a Jewish school.
Jewish social and cultural activities suffered under the Soviet occupation in 1940. A year later, many Jews were arrested and transported by German troops, aided by local nationalists, to Pavartyciai, a village five kilometres away. There they were crammed into barracks and shot, while others were murdered in Liaudiskiai. The town of Seduva was liberated in 1944.
As part of the reparation process, the Jewish cemetery was restored in 2013, with the oldest tomb dating back to 1782, and memorials were inaugurated at the sites of the massacres, in Pavartyciai and Liaudiskiai.
These restoration efforts have given rise to an original initiative, due to be completed in 2024. This is the Lost Shtetl, designed by Sergey Kanovich. The project was inspired by the many stories about the Jews of Seduva. It is gradually taking shape, thanks to the help of architects who worked on the design of the POLIN museum. The aim of the museum is to present the Jewish history of Seduva and all its cultural, religious, folkloric and societal aspects within the shtetl and in its interactions with the town's population.
The museum's website already features many informative and entertaining accounts of life in the past, from winter sports and a local pilot who crossed the Atlantic in 1935 to the moving story of Khana Muzikant, a widow who lost a son in the Lithuanian liberation struggle and who worked hard in the 1920s to save several of her children by organising their departure.
Sources : Yad Vashem, lostshtetl.lt