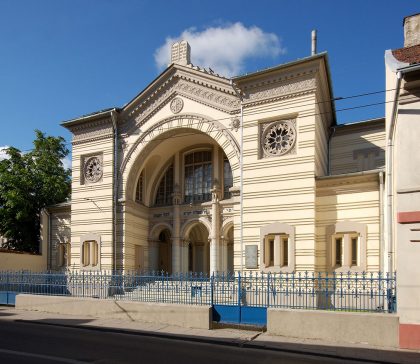 The capital of Vilnius, once known as the "Jerusalem of the east" has few Jewish monuments today. However, in the last few years, the Museum of the Gaon of Vilnius has made significant efforts to promote the city's Jewish culture and heritage.
The Shulhof, the large 3000-seat synagogue built in 1630, was partly destroyed by the Nazis in 1941. The remains of the synagogue were razed after the war by the Soviets, who constructed a building complex on its former location. The current  synagogue, located at 39 Pylimo Street, is a modern building of no particular interest. The Jewish community of Lithuania today numbers around 5000 members and publishes a newsletter entitled Jerusalem of Lithuania, with articles in English.  The community's institutional buildings are concentrated on Pylimo Street: the administrative offices at number 4 also house the Israeli Center for Art and Culture.
Apart from the renovated remains of the former ghetto -you can find an  engraved marble map of it at the main entrance of the ghetto-  the major monument of interest is the Gaon of Vilna's tomb. In the recent past, the gaon's tomb was located in the Jewish cemetery of Shnipishok (a district in the city, also called Snipiskis), to the north of the Neris (Viliya) River. It is now to the northwest of the former ghetto in the Dembovka cemetery, known by the name Saltonishkiu and close to Virshulishkes and Sheshkines. The exact site of the gaon's tomb is uncertain, since, under the Communist regime, the gaon's corpse was exhumed and reburied with others, including that of Count Potocki, a Polish nobleman who converted to Judaism. The remains of another cemetery on Zaretchna Street still exist.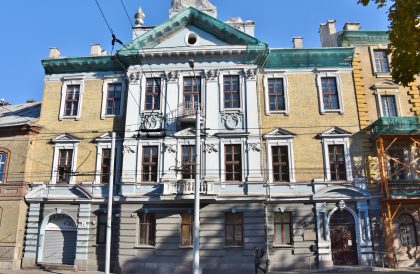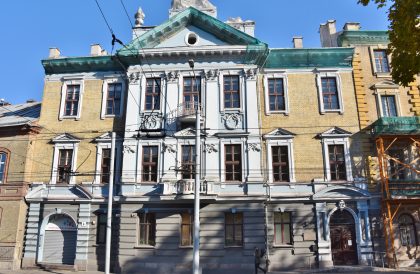 The Chabad center, managed for more than fifteen years by the American rabbi Sholom Ber Krinsky is a very lively and dynamic cultural and religious gathering.
The University of Vilnius now houses an interesting research center on stateless cultures that includes a   department of Jewish and Yiddish studies.
The new  Center for Jewish Culture offers activities, an information center, an exhibition space, a coffee place and a virtual museum of the Jewish Vilnius on the website.
While continuing your visit of the Jewish Vilnius, you'll meet, at the corner of J. Basanaviciaus and Mindaugo streets, the statue of a little boy looking up. This child is  Romain Gary, born Roman Kacew, who lived a few steps from here (Basanaviciaus 18). The statue evokes an anecdote from The Promise of Dawn when the young hero attempts to eat his leather shoe to impress a fellow little girl.
Housed in what was once a Jewish theater, you can visit the  Museum of the Gaon of Vilnius. which hosts other museums under its jurisdiction. In a green wooden house, the Shoah Museum of Vilnius offers information on the history and culture of the Lithuanian Jewish community, the Litvaks in Yiddish. The majority of this community was assassinated during the Second World War. The museum is not afraid to talk about Lithuanian collaboration in those dark times and leaves no aspect of the topic untouched. One unusual section is the Malina, a ghetto hideout video and audio installation in which real diary entries can be experienced.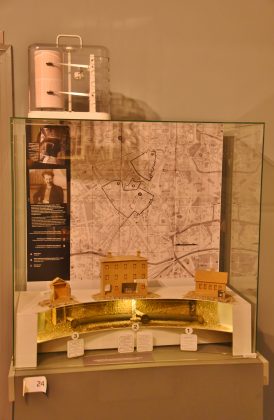 Also part of the Gaon Museum, the  Paneriai Memorial commemorated the 70000 victims, more than half of them were Jewish, assassinated on this site by the Gestapo, the SS, and the Vilnius Special Squad between July 1941 and 1944. A small museum displays copies of archival photographs – the images are extremely hard to watch.
Inside the Gaon Museum, you can visit the Samuel Bak Museum, which was inaugurated in November 2017. This Jewish artist, born in Vilnius in 1933, was with his mother the only survivor of his family of the Vilnius ghetto. After wandering from transit camps to displaced refugees camps, they finally emigrated to Israel in 1948. He studied at the Bezalel Academy of Art, before moving to Paris, Rome, and then he finally settled in the USA. He came back to Vilnius for the first time in 2001.
To conclude on the great extension of the Gaon Museum, we should also mention that the Jacques Lipchitz Museum is currently closed for renovations, but will resume its activity in a near future. Two museums are also under construction: The Museum of the Litvaks Culture and Identity, and the Museum-Memorial of the Shoah in Lithuania and the Vilnius Ghetto.
Interview of Bernard Pucker, Owner and Director of Pucker Gallery, who has worked with Samuel Bak for over 50 years. A major reference in the artistic representation of Jewish history, the painter contributed to the creation of the  Samuel Bak Museum in Vilna, the city where he was born.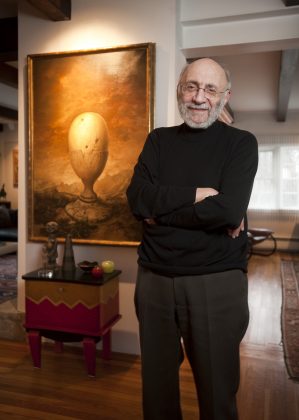 Jguideeurope: Which works painted by Samuel Bak are shown permanently at your gallery?
Bernard Pucker: There are approximately 35 of Sam's paintings on permanent display at the Gallery. Our gallery is structured in such a way that most of the artists have their own little area where their work is on permanent exhibition. The gallery is 5,000 square feet which represents a great amount of space. In addition to that, we have sliding panels where some of Sam's major paintings are exhibited, such as "The Family" and "The Ghetto of Jewish History".
When and where did you meet Samuel?
My wife Sue and I lived in Jerusalem in 1959-1960. During that year, I was studying to be a rabbi and Sue was studying Hebrew. Sue was given $300 by a family member designated for buying Israeli art. This introduced us to Dov Safrai and the Safrai Gallery in Jerusalem. When we returned to the US, we began selling art for Safrai Gallery from our apartment. When we opened the gallery in October 1967, Sam Bak's work was the first we received to exhibit on behalf of the Safrai Gallery. A year later, I met Sam in Israel. As a result of that meeting, we have been working together for more than 50 years!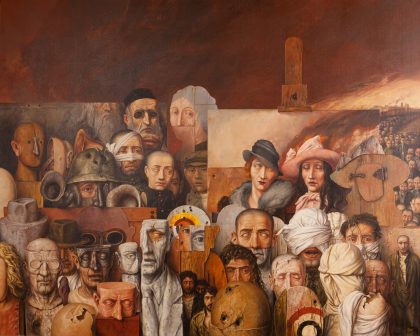 Did art represent a way to reconcile himself with life after everything that happened to his family during the Shoah?
Not entirely because he had been drawing since he was 3 years old. It was his form of personal expression, even as a child. Art was with him in the ghetto of Vilna, during his hiding and travels, while at the Landsberg DP camp in 1946 and during his eventual arrival in Israel. In Bak's case, art was a calling. He literally had little or no choice in pursuing his life as a practicing artist. He continues to work and is preparing 100 paintings for our next exhibition on the theme of still life. There is an online catalogue raisonne where you can see over 8,000 works created by Sam from 1946 until 2020.
I read in some articles that he recently experienced very emotional talks with students. Can you tell us a bit more about his will to transmit?
Sam is one of the most extraordinary storytellers and teachers that I know. Every time you ask him a question, you generally receive a full-blown painting in words!  A recent experience was at the University of Nebraska in Omaha where we did an exhibition called "Witness". There, he specifically met with students about writing an autobiography and about accessing the past through their creative efforts in the present.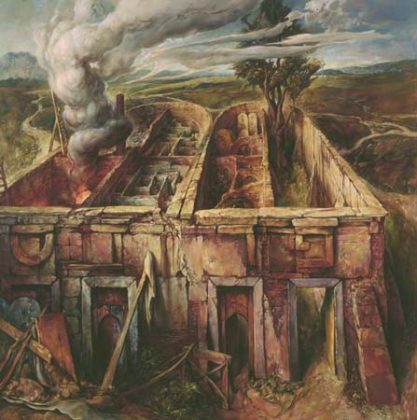 As a result, the University of Nebraska decided to build a Samuel Bak Museum for which he will donate 512 works to be exhibited on a rotating basis. It is a miracle beyond belief, especially in these days of pandemic, financial difficulties and the general unrest in our nation… It represents a significant investment by this university and their commitment to its students' futures.  In addition, it will serve to explore and expand the dialogue around issues of moral choice and philosophy and how we, as human beings, respond to that.
How did he experience his return to Vilnius in 2001?
In 1997 I invited Sam to join me on a trip called "Roots" with Sir Martin Gilbert, the historian, and a few friends. He said he could not go back, that it was too painful. A couple of years later, Rimantas Stankevicius, a man from Vilnius, came to New England to research righteous Christians, Juozas Stakauskas, Marija Mikulska and Vladas Žemaitis, all of whom had been instrumental in saving Sam and his mother. Rimantas then invited Sam to come back to Vilnius. He created a map with the old street names so Sam could find his way around. Sam has very vivid memories.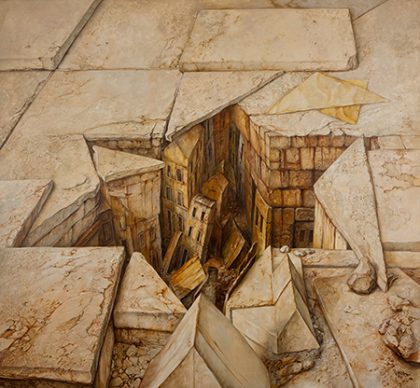 That lead to the 2001 exhibition there. I went with him on that trip. It was very emotional. He came with his wife and three daughters. We walked through the places where he had lived, where he had hid. Then we went to Ponary and the single headstone that memorializes the remaining few Jews that were killed in July 1944. His father was one. Sam stood in front of that stone and poured onto the ground a mixture of Sahara sand and the ashes of his stillborn grandson so that his father and grandson could be reunited in Ponary. It was an amazing experience. The book Return to Vilna presents paintings Sam did after this visit to Vilna.
Rimantas continues to be a guardian angel for Sam. He not only encouraged Sam to come back to Vilna, but helped create a Samuel Bak museum there. Sam gave them 126 paintings and we have directed numerous donors to give additional works to the museum. The staff there, while being mostly non-Jewish, is very motivated to share Jewish cultural heritage. They use his art to reflect on the past experiences of Jews in Vilna and to build a much better future for all.
Pucker Gallery, 240 Newbury Street, Boston Massachusetts 02116
Tel : + 1 617 267 9473
https://www.puckergallery.com/