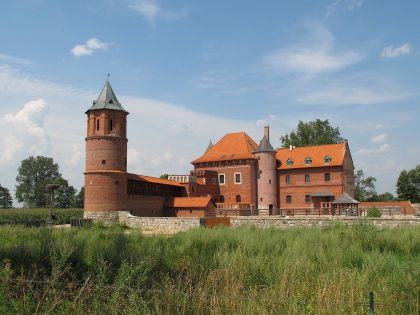 From Bialystok, a detour toward Tykocin is imperative: it has effectively preserved the structure and architecture of an old shtetl. This town, tiny today, was in times past more important than Bialystok, with a larger and older Jewish community. The community dates back to 1522 and was, in the seventeenth and eighteenth centuries, one of the most prominent in Poland. Like Bialystok, in September 1939 Tykocin fell under the Soviet-occupied zone connected to Belarus. In August 1941, the Germans executed 1400 Jews here and sent the rest to the Bialystok ghetto, where 50000 of their fellows were confined. In November 1942, Mordechai Tenenbaum of Warsaw began to organize a resistance, but the ghetto was liquidated beginning in February 1943 and the armed uprising crushed. All of the ghetto's inhabitants were exterminated in Treblinka and Maidanek.
The magnificent synagogue here, built in 1542, is still remarkable with its very tall, late-Renaissance frame and Baroque roof. It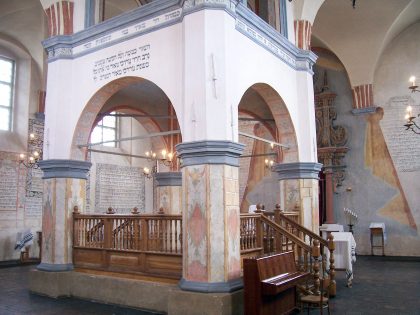 has been restored and transformed into a  Museum of Judaism. The interior is splendid, with a large bimah, frescoes depicting exotic animals, inscriptions with beautiful Hebrew lettering, and stuccowork.
In front of the museum, at 4 Kozia Street, the Tejsza restaurant offers Jewish cuisine. Behind the museum, old Jewish houses still stands on Kozia, Kaczowska, and Pilsudskiego streets.