Jewish Cultural Center of Ljubljana
Jewish Cultural Centre Ljubljana - Judovski kulturni center Ljubljana, Slovenia, Križevniška ulica 3, 1000 Ljubljana, Slovénie
Site of the ancient synagogue
Židovska steza 4, Ljubljana, Slovénie
Jewish cemetery of Zale
Zale Cemetery, Ljubljana, Slovénie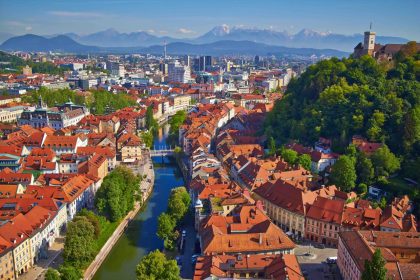 The only remaining traces of a prior Jewish presence in Ljubljana are the names of two narrow streets in the city center, Street of the Jews (Zidovska ulica) and Passage of the Jews (Zidovska steza), the place of the medieval ghetto until the 1515 expulsion.
The remains of a neighborhood of about thirty houses have apparently been found beneath the Baroque buildings here, constructed in the seventeenth century atop the medieval foundations.
The Jewish presence in Ljubljana probably dates from the 12th century. According to historian I.V. Valvasor, following its destruction by fire, the Jews renovated the city's synagogue in 1213. A ghetto consisting of a few dozen houses probably stood in what is now Jurcicev Square. The Jewish population never exceeded 300. The community had a school and a beth din. The district has since been completely rebuilt, in the 17th century and then in the 19th.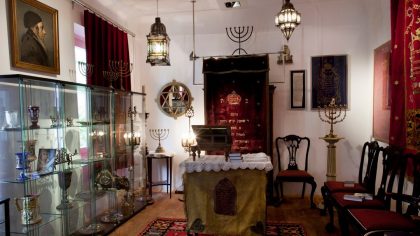 Expelled from the city in 1515 by Emperor Maximilian, the Jews could only return from the regency of Joseph II. The 19th century was more welcoming, the Jews resettling and obtaining emancipation in 1867. In 1910, there were 110 Jews in Ljubljana, having no full community and being attached for religious services to that of Graz in Austria. When the city was integrated into Yugoslavia, the community was attached to that of Zagreb.
The  synagogue was probably located at number 4 Zidovska steza street. The Jewish Cemetery is located on a plot of the  Zale Municipal Cemetery. About twenty tombs, very modest. In the center of the cemetery is a monument in memory of the victims of the Shoah. Which was erected in 1964.
Robert Waltl, a theater manager who later discovered his Jewish origins, began in 1999 to renovate an abandoned building to accommodate a theater. Approached by Jewish artists who no longer had a synagogue since the closure of the last one in Ljubljana, he ceded a floor of the theater to transform it into a  Jewish Cultural Center including a Jewish museum, a place of remembrance of the Shoah and a synagogue. Rabbi Ariel Haddad, based in Trieste but touring the Jewish communities in Slovenia every week, holds prayers there regularly.