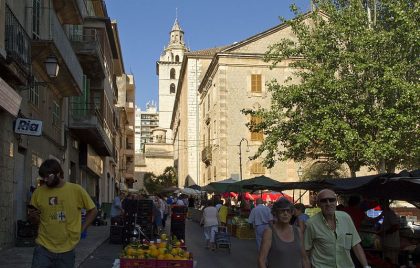 It is known that there was a Jewish community in Inca at least since Jaume I conquered Mallorca in 1229. That said, their presence had been mentioned before by Severus, bishop of the island in the fifth century.
The Jewish quarter of the city (call) dates from 1346 and was established by a decision of Peter IV of Aragon, on a request from the governor of Mallorca, after the repeated complaints of the Christian community, indisposed by the Jewish presence in the city.
The construction of the call did not calm the Christian population. Attacks against the Jews were reported in 1372. In 1391, the Jewish houses and businesses of the city were burned by the populace. This event marks the end of the call and most survivors convert to Christianity.
In all likelihood, the call had a synagogue. Indeed, in a document of 1392, the convert Bortomeua asks for inheritance rights on a property that belonged to his grandfather "Jucef Ben Baharon, rabii of the Jewish school of call". The location of the call is today between Sant Francesco, Virtut, Can Valella, Pare Cerdà, El Call, and La Rosa Streets. It is estimated that about 306 Jews lived there, for the majority of traders and artisans.
The Can Moroig house is located at 22 Carrer de Can Valella and is also called Can Móra. The building is at the heart of the old call and has consequently been identified as an old Jewish home. The one-storey house dates from the early 16th century. Its facade made of small stones is similar to other houses in the neighborhood. Unoccupied for years and deteriorated by the passage of time, the house was bought ten years ago. The renovation undertaken by the owners has revealed multiple architectural elements that prove its medieval origin, including the Gothic arches. Further excavations have revealed that the foundations of the house date back to the 14th or 13th century. An oven and a wine cellar were discovered, as well as, in the courtyard, a cistern decorated with anthropomorphic decorations – there are two eyes and one nose. The house can be visited.