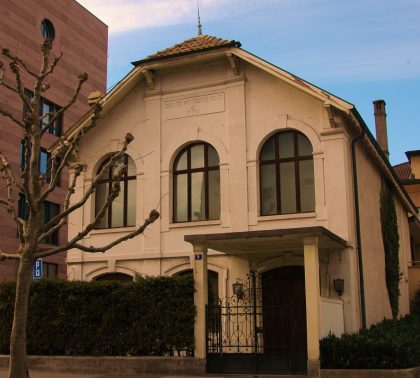 The Jewish presence in Fribourg probably dates from the 13th century. Jews were present in the Fribourg region, whether in Murten, Châtel-Saint-Denis or Romont.
During the Middle Ages, as in many other towns in the region, the situation of the Jews varied between welcome, persecution and expulsion, depending on the power in place. In the wave of great expulsions that took place between the end of the 14th and the end of the 15th century, the Jews of Fribourg were expelled in 1428, then again in 1463 and 1481, the first two expulsions being partial. During the third expulsion, Fribourg became part of the Swiss Confederation.
Until the middle of the 19th century, the presence of Jews was only allowed temporarily, through fairs or other commercial relations that did not require a long stay. From 1860 onwards, Jews resettled there, mainly from the French region of Alsace.
The Jewish community became organised from 1895. For two years, a room on the Place Georges-Python was used as a place of worship. In 1904, the  synagogue was inaugurated. At that time, part of the Fribourg cemetery was used by the Jewish community.
Over the course of the century, Jews moved into different spheres of active life. Previously confined to the professions of traders and cattle breeders, they diversified into commerce, printing, medicine and other liberal professions.
In the 1990s, the number of Fribourg Jews reached 40 families.
Interview of Claude Nordmann, President of the Jewish Community of Fribourg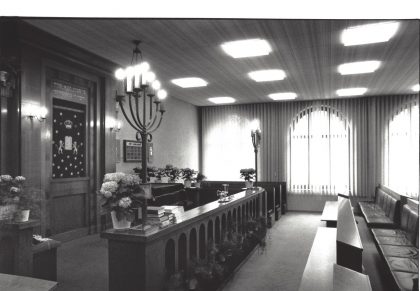 Jguideeurope: How was the Freiburg synagogue built and did it change architecturally?
Claude Nordmann: The synagogue in Fribourg was built in an old house where dance classes were held. It was transformed at the beginning of the 20th century and underwent two restorations around 1939 and 1965. Since then, simple improvements have been made.
Which people have marked the Jewish history of Fribourg?
The Jewish Community of Fribourg (CIF) was founded in 1895 by Grand Rabbi Wertheimer of Geneva. It had many members from Alsace, including several cattle merchants.
There were no particular personalities who left their mark on Jewish history in Fribourg. However, we should mention Jean Nordmann who was president of the CIF from 1957 to 1986 and who developed relations with the religious authorities of the Canton and other religious authorities. He worked for the recognition of the CIF as a corporation under public law in 1990, which put it on the same footing as the Catholic and Reformed churches. Jean Nordmann was president of the Swiss Federation of Jewish Communities from 1973 to 1980.
Another personality who taught in Fribourg was the philosopher Emmanuel Levinas. He taught courses in Jewish thought and philosophy at the University of Fribourg in the 1980s and 1990s. He also gave the ICF the benefit of his erudition.